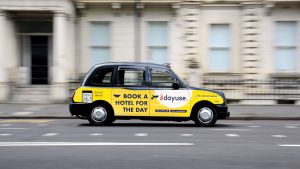 Dayuse.com, the global leader in daytime hotel bookings, announces today that it unveiled an advertising campaign across 500 black cabs in London in a move designed to educate consumers about the opportunity to book a hotel room for a few hours during the day at a discounted rate. 
The out-of-home (OOH) ad campaign is running across 500 quintessentially London taxis starting January 21st and running up until March 3rd. Each taxi has branded sides who advertise the baseline of the company "Book a hotel for the day". The logo paired with the use of yellow will draw the public's attention on the city streets. The branding continues inside the cabs with further advertising on the tip seats.

With over one million bookings globally since the platform's launch in 2010, the service is considered a mainstream player in the hotel industry. The UK is now the largest market for the French company, with an increase of 100% over the past year both in terms of business volume and revenue. 
Founder & CEO David Lebée explains: "Deepening our investment in UK-based marketing is a key part of our 2019 strategy to generate high-quality traffic to our platform and increase our already high conversion rate. British consumers have always been early adopters of our bold concept. As London remains one the most influential cities around the globe, investing in OOH campaigns was an obvious choice. The iconic British black cab provides a stylish and powerful platform to promote the brand in a unique way."
The campaign's aim is to reach consumers across London and drive awareness around the seamless solution that a hotel room during the day can represent. Enjoying hotels during the day has become an increasingly modern consumption trend, sought out by business people, travellers and trend-setting urbanites. 
The need for a private and secure place for just a few hours could arrive at any moment: a remote office while on the move, a respite from a never-ending layover, or even a luxurious daycation.
Source: Dayuse.com