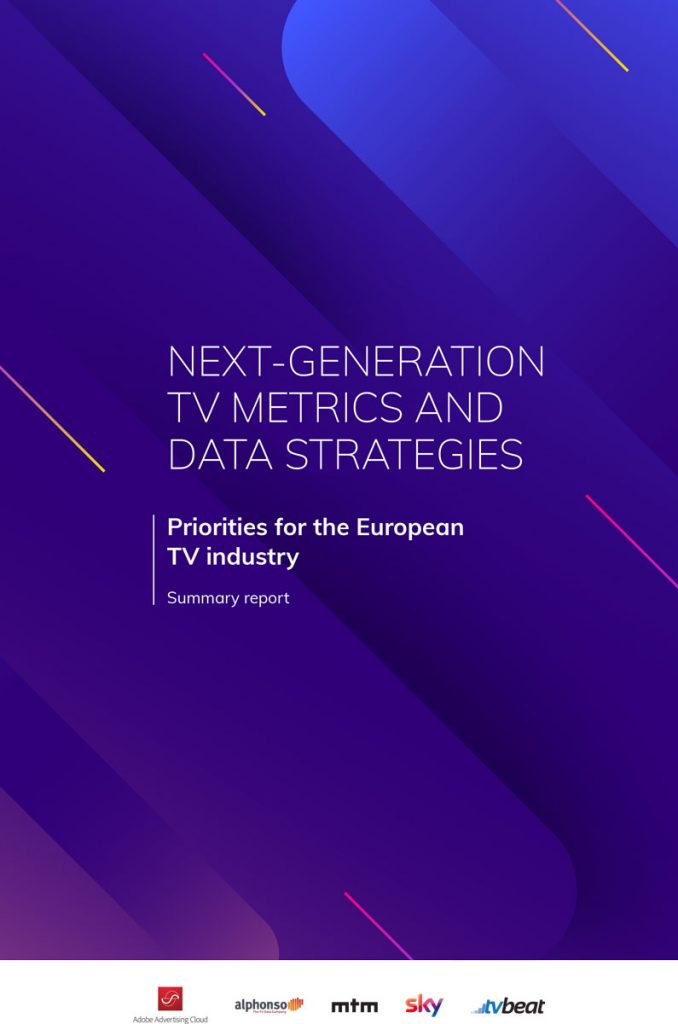 New initiatives for TV advertising measurement, data and metrics are urgently needed, say nine in 10 TV industry executives (93%), if the European TV industry is to remain competitive. This is the main finding from Adobe, Alphonso, Sky and TVBeat's latest report – 'Next Generation TV Metrics and Data Strategies: Priorities for the European TV Industry' – launched during Ad Week Europe, and based on insights from over 300 TV industry executives across the continent.
The urgent call for new metrics in TV advertising is in response to the decline of linear TV consumption, the rise of online video publishers, and the transition of broadcast TV into multiplatform. As a result, TV viewing habits are fragmenting across multiple channels, and the brands that advertise across them are struggling to measure and evaluate the performance of their content.
While the European TV industry has planned upgrades to help rise to these challenges, the insights reveal a strong consensus that the TV industry must do more. Three quarters of European TV executives (72%) believe that the industry must seek new definitions and common principles for ad viewability, and a further two-thirds (64%) believe standardised definitions for TV and video impressions must be developed.
In addition, three-quarters (72%) believe the European TV industry must enrich TV Audience Measurement (TAM) with additional data sets beyond age and gender if the industry is to remain competitive, and create more personalised, targeted ad experiences.
Phil Duffield, Managing Director Adobe Advertising Cloud said: "The TV industry has reached a pivotal moment, and must move towards an operating model that places advertiser needs front and centre. In its current fragmented state, the TV industry doesn't enable advertisers to offer a consistent experience across channels, which has a direct impact on customer relationships."
To help the TV industry in Europe remain competitive and offer more consistent experiences across channels, the TV Consortium has identified five key priorities. These include:
Ensure that TV Audience Measurement (TAM) solutions remain the gold standard in media measurement
Support the development of scalable, consistent pan-industry standards, definitions and solutions
Develop the industry-wide data assets and capabilities required to cater to new advertiser needs
Maintain TV's status as a brand-safe, fully viewable, and effective advertising medium – committing to clear principles
Invest in training the next generation of data scientists to meet TV's needs
Jamie West, Deputy Managing Director, Sky Media commented: "With the TV industry in the midst of so much change, the time to start these conversations and agree on common metrics, standards and definitions is absolutely now. By working together, the industry can ensure cross platform campaigns are simple as possible for advertisers to buy, measure and report on, which will also encourage new advertisers and revenue into the industry."
Abbas Tahzib, Chief Revenue Officer, TVBeat added: "If TV is to continue to maintain its dominant position in both media and advertising consumption, it must integrate more effectively with the digital channels that TV advertisers are increasingly using. By agreeing on common metrics, such advertisers can ensure their campaigns reach their full cross-device potential and target niche audiences as well as reap the benefits of brand safety on TV."
T.S Kelly, Senior VP Research, Alphonso said: "The gap between existing TV measurement solutions and marketplace needs grows ever wider. Closing this gap requires collaboration across brands, agencies and publishers alike. Through Consortium efforts, we've identified the unifying challenges facing nearly all industry stakeholders, defining a collaborative path forward to address critical TV measurement needs not just in Europe, but worldwide."
The full report, which explores the five priorities in more detail, can be found here.
Source: Adobe