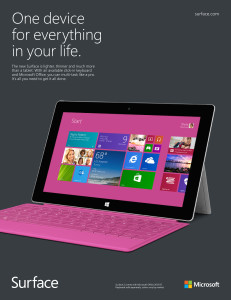 Following a competitive pitch, communications agency Exposure has been appointed as lead creative agency for Microsoft's newest tablet, the Surface 2, in an integrated four month campaign starting December, 2013.
Campaign activity aims to bring audiences together through a creative approach that drives them along the journey to purchase. Activity includes advertising, media partnerships, influencer activity, pop-up events, product placement and social engagement.
Microsoft's newest product, the Surface 2 tablet is 'the one device for everything in your life', designed to perform when used for work or play. The device is packed full of features to support both functions, including being fully loaded with Microsoft Office. The Surface 2 further enables people to work-on-the go with its faster speeds, a convenient USB port and a dual-position kickstand.  Extended battery life and a 1080p full HD widescreen display makes watching movies and playing Xbox games a richer experience.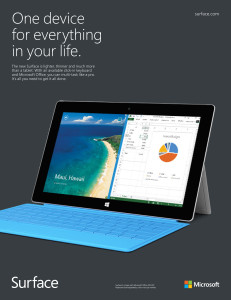 Andrew Smylie, Surface marketing communications manager at Microsoft said: "Surface 2 helps you 'do more' – whether you're an 'always-on' entrepreneur, social media addict or games devotee. To really launch Surface 2 with a bang we needed a creative partner that could deliver an exciting, clear and effective campaign.  Exposure really shone in the pitch process because of its ability to excite our core influencers."
Tim Bourne, joint CEO, Exposure said: "We've worked with Microsoft on some of their most exciting projects, such as Microsoft's Portable Experience Centre, 'Our House' – a real-life home built into a double-decker bus that showcases Microsoft's suite of connected devices. We're thrilled to once again be selected as partner of choice and extend that relationship. As an agency we pride ourselves on excellence when it comes to delivering audience insights, and this strength has again proved our worth as a deciding factor in our pitch.
"Surface 2 – created by Microsoft for an audience of on-the-go, entrepreneurial and passionate customers – looks set to revolutionise the tablet market. With this campaign we're creating awareness of the more emotive side of this technology through a variety of marketing activities and creative ideas specially tailored for the product's chief influencers."