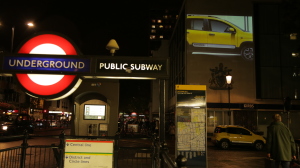 To launch the FIAT Panda Cross and communicate its dual-capabilities as a nimble city car with the capabilities of a proper off-road vehicle, FIAT embarked on an outdoor campaign using guerrilla formats to take its message directly into its target audience's urban environment.
The campaign was planned and bought by Maxus, with creative from krow Communications and production by Kinetic Active.
To introduce the message that the FIAT Panda Cross is an incredibly versatile car, the pocket-sized SUV – tested by nature and approved by the city – Londoners were treated to surprise guerrilla projections that lit up the night sky on 17 October. The projections featured animated scenes of the Panda Cross in unexpected locations, bending, twisting, turning, bumping and swerving as it moved from building to building in static high-footfall locations.
The campaign targeted city dwellers that enjoy outdoor pursuits in their leisure time. Maxus drew on the insight that the dual-capability of the FIAT Panda Cross to engage with the dual personalities and lifestyles of its target audience. To emphasise the car's capabilities in different conditions and terrain, made possible by its clever all-wheel drive system and new terrain selector, Maxus also devised an innovative outdoor media strategy incorporating rain-activated water stencils that 'magically' appeared across urban areas when it rained.
The campaign was further supported wit press, digital and retail communications.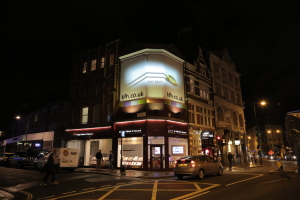 Lucia Pennesi, FIAT brand communications manager said: "We always work very closely with our brand agencies in order to deliver the most compelling and innovative campaigns for FIAT to the right audience, as we have done positioning Fiat 500 as the car of choice for fashion-conscious drivers. For the FIAT Panda Cross Maxus has created an engaging and surprising campaign, with the creative support of our creative agency krow Communications, that effectively communicates this remarkable car's attitude and versatility."
Gemma Delaney from Maxus said: "Based on the hugely successful FIAT Panda 4X4, the new FIAT Panda Cross offers even more capability and attitude than its predecessor. Using an unconventional out-of-home format aligns with the Panda Cross mission to be a car like no other, and the element of surprise will create real buzz and talkability."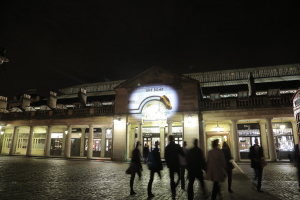 Nick Hastings, founder and executive creative director from krow Communications, said: "Going 'guerrilla' feels like a smart way to highlight the FIAT Panda Cross's energetic and boisterous personality. Who knows, we could even bring a smile to Londoners faces."
The water stencils appeared on high-footfall areas across London, Manchester, Birmingham, York, Edinburgh, Leeds and Liverpool on 15 October.