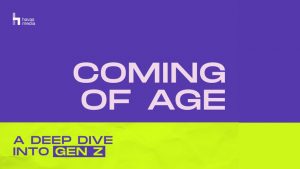 90% of 18 to 20-year-olds believe that brands have a responsibility to tackle climate change in some way, according to a new research study from Havas Media Group.
The study, entitled Coming of Age, uncovers insights into the two million young people who have become eligible to vote since the EU referendum in June 2016. The research reveals how this specific group of Gen Zs, 18 to 20-year-olds, view the world and their place in it, as well as shining a light on their expectations of and relationships with brands.
Brexit not the defining issue
Brexit is not the defining issue for this generation. When asked to choose three areas that were most concerning to them, only 30% chose Brexit, putting it at number eight in the list. Mental health was the biggest concern, chosen by 58%, followed by climate change (56%), knife crime (53%) and the NHS (48%).
While 67% want another referendum and 70% would vote remain if a second vote materialised, this generation are far more concerned with global and local issues than national ones. This may be linked to the fact that just 19% think Boris Johnson will be a good prime minister, while 60% believe that the UK can no longer be taken seriously.
Brands must step up to climate change challenge
While government is seen as having the greatest responsibility to address the climate crisis, the study shows that 9 out of 10 of those surveyed believe that brands have some kind of role to play.
29% of this group say that brands have the biggest responsibility to combat climate change, second only to the government, at 37%. More generally, 68% of respondents have stopped buying products or services from a company due to their ethics, and 55% have written to a company or brand about a specific issue.
'Aware, concerned, scared'
Mental health is the main source of concern for this generation, which describes itself as 'aware, concerned and scared'. Having been born around the time of 9/11, and growing up with technology from an early age, these Gen Zs acknowledge the negative impact of social media. 88% think that social media is dangerous for vulnerable people and 73% think the need for 'likes' is damaging.
18 to 20-year-olds present a carefully curated self when online, with only half saying that their online persona represents their real self, 35% having multiple profiles within the same platform and 28% saying that their online profiles show a completely different person.
However, this group recognises the value of digital interactions, with 50% stating that a conversation doesn't need to take place offline in order for it to be meaningful. Text and instant messages are the preferred mode of digital communication, with 68% preferring to text and 65% choosing instant messaging platforms like Whatsapp and Facebook Messenger. These means of communication are favoured ahead of social media (58%), phone calls (56%), email (18%) and voice notes (14%).
Fighting for change
18 to 20-year-olds believe they have the power to make a difference, with 68% of respondents saying that their generation will change the world. However, they feel that they are not always taken seriously, with 85% saying their opinions are dismissed because of their age.
This generation takes action. 86% have signed an online petition, 31% have written to their MP and 40% say they have attended a rally.
Eva Grimmett, Chief Strategy Officer, Havas Media Group said: "This group of young people missed out on the opportunity to vote in the EU referendum, but they are coming into adulthood with their futures very much defined by what happened back in 2016. That's why we felt it was so important to understand more about how this specific section of Gen Zs feel about themselves and the world around them. The study clearly demonstrates that these people have high expectations of brands and the role they should play in tackling major issues like climate change, and smart advertisers should realise that their long-term health relies on contributing something of value beyond their core product or service, particularly from an ecological perspective."
Methodology
Coming of Age is based on input from a bespoke qualitative community during the first half of July 2019 and a quantitative survey of 2000 regionally and nationally representative 18 to 20-year-olds over the first half of August 2019. Havas Media Group also used supporting insight from several industry partners, to add further context around the findings.
Source: Havas Media Group