Sainsbury's is the target of a new Greenpeace campaign on plastic packaging and has been mocked in an April Fool's video.
The UK's second biggest supermarket is ridiculed in the comedy clip for its dismissive attitude on reducing plastics and its failure to take sufficient action.
Greenpeace is calling for Sainsbury's to set yearly plastic reduction targets, and to start by eliminating unnecessary and unrecyclable plastic by 2020.
Elena Polisano, ocean plastics campaigner at Greenpeace UK, said: "We called out Sainsbury's last year for its poor policies to address its contribution to the  plastic waste crisis, and it has made pitiful progress since. When it comes to reducing plastic packaging, Sainsbury's is worst in class. To keep plastic pollution off our streets and beaches, and out of our rivers and seas, just improving recyclability isn't enough. Sainsbury's must act now, and eliminate unnecessary and unrecyclable plastic by 2020."
The campaign video features an imagined Head of PR for Sainsbury's, named Polly Ethylene, after one of the most widely used single-use plastics.
Polly says: "Here at Sainsbury's, we've been working tirelessly to ignore the plastic crisis. Our customers are calling on us to stop using plastic packaging that can't be recycled. But if we don't use plastic to keep fruit and veggies like kiwis and peppers grouped together, they'll become lonely and disillusioned."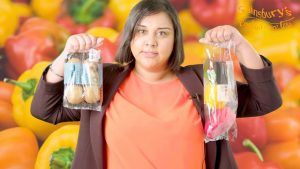 The sting video comes as Sainsbury's was revealed to still be the worst in class of all major UK supermarkets for cutting plastic packaging, after having initially been ranked bottom of the league table in a supermarket survey last year.
In analysis published recently, Greenpeace looked at publicly available plastics pledges from the top 10 UK supermarkets since January 2018 and found Sainsbury's was the worst performer.
Sainsbury's promised to cut just 77 tonnes of plastic packaging, while Asda achieved 6,500 tonnes of reductions. Sainsbury's published no information about the number of units of plastics cut, while Marks and Spencer and Co-op both reduced their output by more than 500m units.
Greenpeace analysis found:
For those which announced how many tonnes of plastics would be cut, the average reduction was 2,217 tonnes – Sainsbury's pledged to cut just 77 tonnes.
For those which announced how many units of plastics would be cut, the average reduction was 266.3m units. Sainsbury's did not publish how many units of plastic it cut.
On average nine plastics pledges had been made, while Sainsbury's announced just five new measures on plastics.
Every year the top 10 UK supermarkets place over 800,000 tonnes1 of single-use plastic packaging on the market, so Greenpeace UK is campaigning for concrete action now. More than 922,000 people have signed Greenpeace's petition calling for UK supermarkets to ditch throwaway plastic packaging. Sign the petition here.
Source: Greenpeace