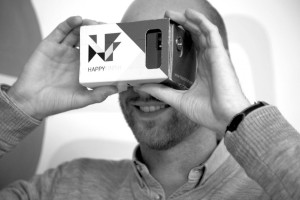 Happy Finish, a pioneer and world-leader in augmented reality and virtual reality, announced that it has signed a strategic agreement with GroupM, the world's leading media investment group owned by WPP. Happy Finish's offices in India and China will work closely with GroupM's content teams across the Asia Pacific region to help develop creative solutions in the VR space for GroupM clients.
As the virtual reality sector heats up globally with hardware, software and creative services solutions, advertisers are starting to explore the endless possibilities for consumer engagement with creative and immersive VR experiences. The deal gives GroupM's agencies and clients in Asia-Pacific access to Happy Finish's creative and technology resources to develop powerful and first-to-market VR campaigns.
Virtual Reality simulates physical presence in the real or imagined world and a number of marketplace developments indicate the technology is at the precipice of mainstream adoption by 2020. The Oculus Rift VR headsets expected to start shipping in Q1 2016 and total sales for the category are expected to hit 11 million users in 2016 [according to SuperData].
Additionally, Google's Cardboard VR headset is anticipated to allow consumer participation in VR at almost zero cost. With awards recognition at the Cannes Lions International Festival of Creativity and Spikes Asia, and an impressive array of work for broadcasters including ITV and brands like Ted Baker, Volvo, Nike and Hugo Boss, Happy Finish are world-leaders in VR production.

Commenting on the agreement, Stuart Waplington, Group Chairman of Happy Finish, said, "Recent developments in Virtual and Augmented Reality technology have laid the foundations for the next digital revolution. This technology has the power to change every area of our lives, digital experiences will merge with the physical world and virtual experiences will affect us on a deep emotional level. GroupM are global leaders and are very forward thinking with a disruptive mindset that makes them the perfect partner for Happy Finish as this technology moves into the mainstream. Our emphasis is on using this technology to deliver measurable results for GroupM clients."
GroupM Content CEO for Asia Pacific, Josh Black said of the deal, "The VR space is about to explode and as usual, GroupM will be ahead of the curve helping clients to get there first with impactful communications and marketing programs. Happy Finish's award-winning creativity and innovative technology has already been harnessed for several clients of GroupM agencies, and this deal means we can scale to deliver incredible results for more of our brands."