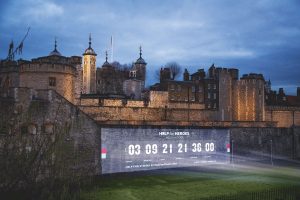 On Blue Monday, dubbed "the most depressing day of the year", Help for Heroes is illuminating London landmarks to shed light on the stigma preventing veterans from accessing the support they need for mental health issues.
At the centre of this new campaign created by McCann London and McCann Enterprise and Help For Heroes is the #StigmaClock. Depicting the four-year delay it takes Armed Forces veterans to seek help for psychological wounds such as post-traumatic stress disorder (PTSD), the clock will be projected onto The Tower of London in support of veterans suffering in silence.
Help for Heroes is encouraging the public to join in and show their support for veterans by shaving time off the #StigmaClock. With every pound donated to Help for Heroes through the campaign; with every retweet, "like" and share on social media, and every new volunteer recruited, the four years on the #StigmaClock will be cut. The projection will be livestreamed via CutTheClock.com so people can see the #StigmaClock being cut in real time.
By raising public awareness and symbolically reducing the four-year delay, the campaign hopes to help veterans come forward to receive the help they need much quicker. The campaign commences with a launch event today at 06:00PM at the Tower of London, where England rugby legend Matt Dawson, who has dealt with various difficult injuries during and after his sporting career, will start the clock.
Karen Mead, Head of Psychological Wellbeing at Help for Heroes, said: "Veterans are not accessing mental health support when they need it and we believe this needs to change. Our campaign is asking the nation to call time on stigma and to let those who have served their country know it's okay to ask for help. We need the community's support to help us fund vital programmes to ensure we can continue to be there and respond quickly when veterans do take that big step and ask for support."
Laurence Thomson, Co-president and Chief Creative Officer at McCann London, said: "Unlike the physical and mental health issues that veterans face, stigma isn't really real. It's a damaging social construct that stops veterans from getting the help they need. This was an exciting campaign to work on because we needed to give stigma a physical presence in order to break it down in the eyes of the UK public and, most importantly, for our country's veterans. In symbolically rolling back the clock, we hope this campaign will translate into an actual reduction in the time it takes for veterans to reach out to Help for Heroes."
The #StigmaClock campaign is based on the results of a new survey commissioned by Help for Heroes that reveals the true cost of stigma for Armed Forces veterans living with psychological wounds. The survey found that veterans are delaying asking for help with their mental health for almost four years, partly due to believing civilian services will not understand or support them (28 per cent) and a fear of being treated differently by friends (25 per cent) and family (19 per cent). 30 per cent of veterans state they have never accessed support.
Source: McCann London