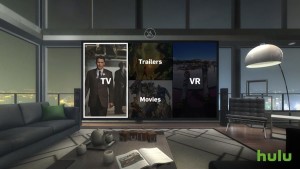 Hulu recently made a major virtual reality announcement. The Hulu Virtual Reality app is now available and ready for viewing on Samsung's Gear VR powered by Oculus. The launch will include over 25, 360-degree films along with Hulu's first ever originally produced short film, "The Big One,"  which was conceived through a partnership with Lionsgate. Additionally, Hulu subscribers can now watch Hulu's entire library of 2D content in "immersive 360 degree environments."
The move into virtual reality is not unexpected. Hulu has slowly been updating its service, adding new features and subscription models.
On the other side, virtual reality is a burgeoning marketplace. Facebook realized the potential when it paid $2 billion to purchase Oculus just a couple years ago. The technology is in its infancy, but many see a near limitless potential. Mark Zuckerberg described it as "the next major computing and communication platform," but later said that it will be ten years until it reaches mass market. Recently, however, there has been a huge amount of buzz, including major features in a whole range of outlets, following the release of Oculus Rift.
It only makes sense that the two would partner together. Hulu and other OTT providers have innovated since their inception, and now with a new innovation on the horizon, providers are taking advantage. The future may be far away, but it has already begun.