Ikea isn't just a giant in the world of home furnishings—it's also one of the world's largest producers of paper packaging.
And even as today's children connected digitally more than ever, the basic cardboard box still provides them with endless possibilities.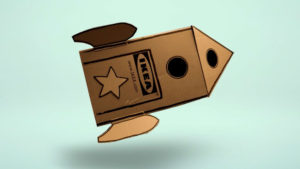 In its latest creative project, which debuted at Cannes Lions on June 20, the Swedish company and its agency partners developed a new app that will help facilitate creative play by better empowering those kids to turn an old box into something completely new.
Meet the Ikea Toybox app.
WPP's Wunderman and Kantar Consulting led the process of researching and building the app, drawing on "15 million rows of dialogue data" collected via nearly 20 years of conversations with parents. The key takeaway from all that data? Behaviour and development is the second hottest topic in childcare, behind only pregnancy. Approximately half of parents say they have a hard time coming up with creative ways for their kids to play.
"This exploration and experiment made the sprint to Cannes Lions particularly exciting as we are now at a stage where we can share it with the world," said Wunderman global chief creative officer Daniel Bonner. "Ikea truly understands the need and value of play in the home and we're thrilled we were able to help them investigate new opportunities that promote more creative play amongst their consumers' families. Ikea exists as a space for new ideas and we believe that the Ikea Toy Box project continues to fulfil that promise—opening up play to children of all ages."
Bonner and his team said they had only five weeks to move from concept to prototype so the app would be ready to demo at June 20's Cannes event by Ikea CMO Claudia Willvonseder.
The app is not yet available to the public, but Ikea plans to release it soon.
Source: Adweek