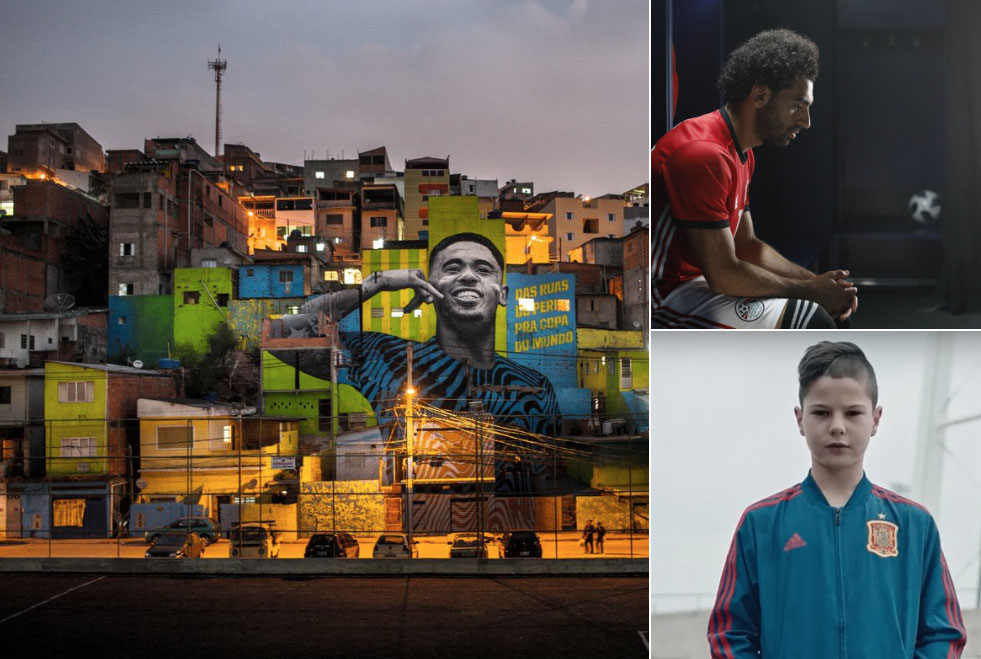 Iris has released three new videos for for their World Cup Campaign.
Liverpool and Egypt's Mo Salah, Manchester City and Brazil's Gabriel Jesus and the Spanish national squad are featured in these creative football-themed films, which are part of the brand's "Creativity is the answer" proposition.
'Paint the Streets – The Gabriel Jesus Mural'
"At the end, I owe my creativity to Jardim Peri. It's what got me here."

Four years ago, @gabrieljesus33 painted the streets of Jardim Peri.
Now, those same streets are painted to celebrate him. #HereToCreate pic.twitter.com/odqpSC4q2v

— adidas Football (@adidasfootball)
During the 2014 world cup, Gabriel Jesus was a 16-year-old kid painting the streets of his local favela town in support of the Brazil national team. Four years on, he is leading the front line for Brazil at the 2018 World Cup. This time, the streets are painted for him.
In collaboration with a local street art collective and the local community, Iris created a giant mural of Jesus over 20 houses in his hometown of Jardim Peri.
Mo Salah – 100 Million Strong
Tomorrow.
100 million strong. ??@MoSalah is #HereToCreate pic.twitter.com/hkHady6thq

— adidas Football (@adidasfootball)
Creativity inspires a nation & brings people together. Mo Salah is the nation's hero… and with a population of 100 million, Egypt relies on him to carry them through their world cup journey. The weight of 100 million compatriots' hopes & dreams on your shoulders could break a man – Mo Salah sees it as a driving force behind him, the agency customised his boots in homage to that.
'RFEF – Demand Greatness'
They expect greatness.
Give them something to celebrate.@sefutbol is #HereToCreate pic.twitter.com/b5Boyln72g

— adidas Football (@adidasfootball)
Despite political unrest, the Spanish football team are united and the power of creativity can bring people together. The people of Spain tell the national team how they expect them to play and how they expect them to win.
Source:Â Iris