When asked 'What is KLM?' just a fraction more than half of the German population answered 'It's an airline'. In other words: about half of Germany's population (to be exact: 46%) does not know the answer to the question of what KLM is.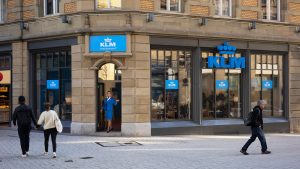 To make everyone aware of the fact they are the Royal Dutch Airlines, KLM worked with creative agency DDB & Tribal Amsterdam to create an experiential awareness and radio campaign called 'We are an Airline'. For a number of days KLM turned into what people believed it was: a bank, a restaurant, and a radio station.
On average 54% of the respondents of the research conducted in august 2018 in Germany were aware that KLM is an airline. Amongst respondents younger than 30, this number dropped to only 37%. Respondents who did not know that KLM was an airline thought it was a bank, radio station or restaurant.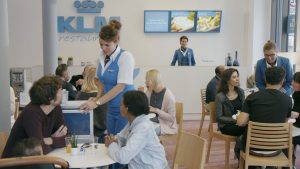 To counter this basic lack of knowledge about the brand in Germany, the 'We are an Airline' campaign was launched to drive awareness in a way that pushes the boundaries of traditional advertising.
The aviation-themed restaurant served KLM inflight meals for free. The cash machine did not give any money but surprised people with a free flight ticket and showed them all the benefits of flying KLM. The radio station had a KLM band playing specially made KLM tracks, and KLM benefits were wrapped in fun KLM news items, commercials and a quiz.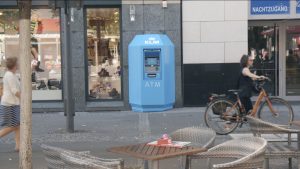 "With our new campaign for KLM Germany, we have taken an insight and turned it on its head. We've made a memorable awareness campaign out of the misconceptions that the general public in Germany have around what KLM is,"  said Esther te Pas, Managing Director of DDB & Tribal Amsterdam.
"This isn't the first non-traditional campaign we have made for KLM. In previous years we have offered KLM passengers an intelligent luggage tag with location-based tips that guided them through Amsterdam – in another instance we encouraged random strangers at the airport to share a Christmas dinner to underline the fact that the airline genuinely cares for people."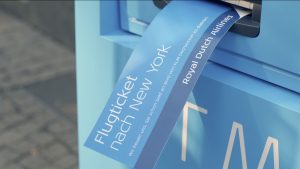 In addition to the experiential elements, the campaign also rolls out on radio, online advertising and via social media throughout Germany. The campaign song 'We are an Airline' by The Flying Dutchmen which was made by DDB together with Amsterdam's MassiveMusic will be released on Spotify.
Source: DDB & Tribal Amsterdam