Italian luxury automotive marque, Maserati, is launching its first national UK TV advertising campaign with Sky's pioneering Sky AdSmart technology. Launched in 2014 Sky AdSmart allows advertisers the ability to target TV ad campaigns to specific audiences to ensure greater relevancy and impact.
By using Sky AdSmart, Maserati is set to showcase the iconic marque to a wider yet targeted bespoke audience of affluent individuals – specifically those who are interested in new, luxury cars. Maserati will use hyper-targeted, geo location advertising to introduce audiences of potential customers who live close to dealerships to the brand's luxury SUV, Levante, which is priced from £56,690 OTR.
Offering the performance and comfortable grand tourer experience expected from a Maserati, whilst providing customers the practicality of an SUV, Levante is available with engaging and dynamic petrol engines, as well as the option of a more efficient diesel variant.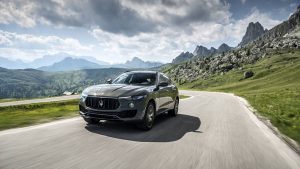 Much of the appeal and impact of this form of advertising comes down to the personalised and dynamic cinematic experience Maserati is able to deliver to audiences. Taking advantage of TV's high impact and brand safe environment, the campaign will help bring the Levante SUV and Maserati  brand to life.
Mike Biscoe, Maserati GB's General Manager commented: "The five month national advertising campaign will allow Maserati to increase  awareness of our SUV, Levante,  to audiences who could be interested in owning one, but are not familiar with it. At the same time we hope it will help inform people's understanding of Maserati as an exclusive but affordable luxury brand. Sky AdSmart is an efficient and intelligent way to achieve this, and we look forward to welcoming potentially new and existing customers into our Maserati showrooms across the UK, to try Levante for themselves."
Graeme Hutcheson, Director of Digital and Sky AdSmart, Sky Media said: "We're delighted to be working with Maserati on its first TV campaign in the UK. AdSmart is the perfect way for the brand to engage current and future customers using the loved, effective and trusted environment of TV in a highly targeted way."
Maserati's TV campaign, brokered by Starcom, launches on Thursday 10 May and runs until September 2018.
Source: Sky AdSmart