Have you ever been so excited about something that you wanted to tell the world? Well, McDonald's Canada and Cossette took that concept to new heights on #NationalFrenchFryDay and gave McDonald's fans an opportunity to shout their love of fries across Canada.
McDonald's launched the first-ever FRIESTREAM, a live stream of a drive-thru speaker that was built on top of Vancouver's Grouse Mountain, broadcasting out social media comments and videos from fry fans across the country. The speaker box, which was linked to social accounts
"We're continuously evolving the way we connect with Canadians and pushing boundaries to broaden our digital impact and leadership in the industry," says Rashel Hariri Digital Social Engagement Manager, McDonald's Canada. "National French Fry Day delivered excitement for fry lovers across Canada, while incorporating our mobile app to drive users to our restaurants."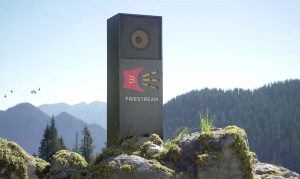 The campaign, which was a huge success, pushed the My McD's app to #1 on the IOS app store, engaged over 800,000 viewers via the livestream and garnered 40 million media impressions.
"We know Canadians love McDonald's World Famous Fries, so for National French Fry Day, we gave them the opportunity to share their love across Canada in an innovative way, letting them share their social voices in real life," shared Troy McGuinness, Creative Director at Cossette.
The campaign also included a Snapchat lens that allowed fans to virtually shout their fry love, using brand new social tech innovation with a first-of-its-kind volume trigger lens in Canada – when users yelled loud enough a surprise animation was unlocked. This was also the first dayparted Snapchat lens in Canada – the sky in the background changed depending on the time of day the lens was used.
As always, McDonald's commemorated the annual celebration by offering mobile app users free fries, but for the first time, fry fans were able to shout their fry love across the country.
Source: Cossette