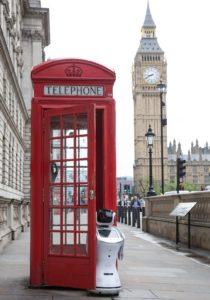 In addition to showcasing some of the city's best tech talent, 2017's London Tech Week (LTW) provided an important gauge of the state and direction of tech advancement globally, with a focus on emerging technologies and the digital economy. Over the past 12 months we have seen verticals like 5G, AI, Robotics, augmented reality and virtual reality (VR) begin to mature (albeit it at different paces); growing in scale as potential gradually becomes reality. Here are a few things that stood out against the cacophony of keynote sessions, tech seminars, and product demonstrations.
5G: Still Just Hype?
5G was among the hottest topics at this year's Mobile World Congress and this momentum continued at London Tech Week. The UK Government clearly believes in the potential of 5G to transform connectivity, and is dedicating £1 billion to new fibre broadband and 5G. While it's still under debate whether 5G is just hype or not it represents a massive leap forward in terms of speed (377 times faster than 4G). The increase in mobile usage means that the sheer volume of data has grown exponentially; Marc Allera, EE CEO mentioned that "our network now carries more data in a month than it did during the whole of 2011".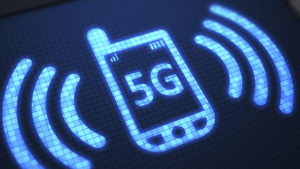 5G has the capability to dramatically increase the speed of data transference with ultra- low latency to improve ease of use for mobile devices. For consumers this means being able to download a 4K film in 10 minutes, about one sixth the time it takes to do so with 4G, enabling far more seamless and efficient mobile viewing experience and a likely uptake in live streaming.
Increased reliability and availability of communications will drive creativity in campaigns and enhance content marketing.  But one of the more interesting aspects of 5G is the ubiquitous access it promises.  Run more like a common utility than today's 3G/4G, marketers will no longer be confined to the network limitations of particular markets, they will be able to create truly global campaigns.
It's still early days for 5G and full-scale implementation is not without some challenges. The widespread dissemination of 5G will require massive investment, new infrastructure and new standardized frameworks that countries and regions around the world will need to agree on.
VR: Evolutionary Rather Than Revolutionary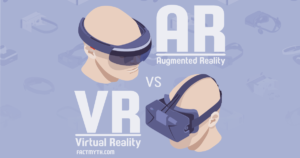 VR and AR development still has a way to go, but a number of companies are in pursuit of a fully-functional solution ready for mainstream adoption. At LTW augmented reality seemed to take a backseat but there was optimism that an AR future isn't far off, with many enterprise-focused demos teasing the benefits of an augmented world.
But it was the strides that VR has made in the last year that were clearly evident in both the product demonstrations and discussions. Static and clunky 2D environments are being replaced with true 360-degree immersive experience with high-resolution visuals that are well modelled
Companies such as ZeroLight and StarVR demoed their new automotive VR experience.  It was impressive.  The visuals were high-resolution and well modelled, the controls were intuitive and easy to use, and the content itself could have a plethora of uses across a range of industries.
3D: Audio Catches Up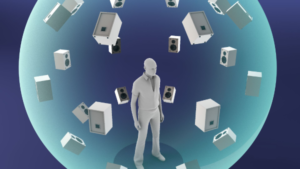 People often forget that virtual reality is not just about what you see, it's also what you hear that makes the experience believable. For VR and AR to be widely adopted there are still obstacles – one of which is immersive audio. Spatial audio, which refers to placing sound in relation to where it should be in a three-dimensional space, can make a huge difference to creating an enriched immersive experience. Dirac VR is one company looking to fill this void with patented technology that ensures true simultaneous visual and aural immersion for any VR experience.
The promise of VR is to create an alternate reality, but without the right audio cues to match these high-resolution visuals the brain doesn't buy the illusion. To create authentic VR, marketers need to deliver immersive graphics with equally immersive audio to really replicate the real world.
AI and Robotics: From Automation to Empathy
The rise in robotics has been reshaping both the supply chain and demand sides of business for some time, but they will soon transform brand marketing just as powerfully .The potential for robots to affect every part of our lives and do so for the foreseeable future was encapsulated by Sophia the robot. Hanson Robotics' most sophisticated robot to date, Sophia was unveiled at SXSX and has even appeared on US talk show Tonight Show.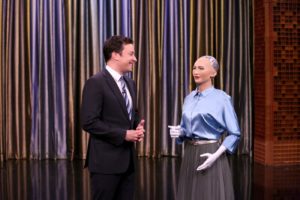 LTW was the first time Sophia has been showcased in the UK. Whilst we may be far from robots that are indistinguishable from humans — if such an outcome is even possible or desirable — creations like Sophia certainly give us a glimpse into the potential of robotics and AI. Sophia's empathetic personality, AI-powered sentience (she has 63 facial expressions) and multi-faceted skills will create new opportunities for brands to position these systems as ambassadors.
By 2020, 85% of customer interactions will be managed without a human. In the future, it's clear that those who will succeed will be those that can embed these qualities into their technology. Elevating engagement from merely establishing an emotional connection to an enhanced emotional interaction will increase consumer loyalty and generate life time value for brands.
London Tech Week provided a strong indicator of what brand-to-consumer interactions will look like in the very near future.  Despite following the major tech conferences, LTW highlighted that when dealing with emerging technologies being innovative doesn't necessarily mean being first. While the stars of the show – 5G, VR, AI, and Robotics – are not new news, the possibilities demonstrated offer great inspiration for brands.  The winners will be those that can adopt these technologies in a meaningful way to deliver better products or services to customers.
Article By Jessica Chapplow, Ecommerce & Emerging Platforms Manager (EMEA), MEC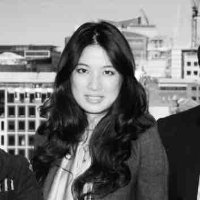 About Jessica:
Jessica Chapplow is Ecommerce & Emerging Platforms Manager (EMEA) at global media agency MEC.
She has hands on experience in how tech is transforming sectors from luxury to healthcare and is regularly called on to be part of industry conferences on AI and its applications to businesses.
Prior to joining MEC, Jessica handled online marketing and ecommerce for fashion brands including Amanda Wakeley.
Source: MEC