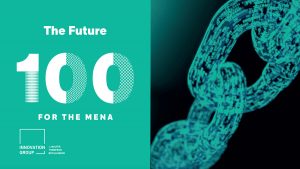 J. Walter Thompson Middle East and Africa's Innovation Group released its sixth annual consumer trends report, covering the MENA region for 2018. The "Future 100 Trends and Change to Watch in MENA" captures key themes accelerating the pace of change for consumers in the fast and dynamic economies of Egypt, North Africa, Lebanon, Jordan, the Gulf and Saudi Arabia, spurring similarities with the West.
Authored by Mennah Ibrahim, MEA Director of the Innovation Group, the report is sliced into 10 main categories – Culture, Tech & Innovation, Travel & Hospitality, Brands & Marketing, Food & Drink, Beauty, Retail, Health, Lifestyle, and Luxury. Each trend in the Future 100 MENA Report is part of a growing phenomenon; that Middle Eastern consumers are increasingly identifying themselves as 'global citizens'. With the universal nature of digital networks, the region is experiencing a significant move towards a post-hipster world, bringing a new spin on parenthood, money and lifestyle matters overall.
New Gender: Trend #34
The most important development in this space is the growing representation of same-sex, asexual and intersex communities in Middle Eastern advertising, which has remained largely invisible to this day. In a first for Lebanese advertising, casual diner Crepaway, featured a lesbian couple embracing by the sea in one of their pieces
of communication.
Full Disclosure Brands: Trend #37
According to a Kantar survey, only 50% of people in the MEA trust information they consume on social media. The rise of paid content has made transparency necessary. Sixty-three percent of brands in UAE occasionally request influencers to reveal that their content is sponsored. Full disclosure will be the watchword for 2018 as brands race to establish themselves as trustworthy.
Interactive Narratives: Trend #32
Brands are adding layers of interactivity to their narratives, enabling a two-way conversation where the consumer is in control. Affectiva, an Egyptian tech company specializing in emotional AI, introduced the concept of "reactive narratives," dynamic stories which react to our emotions in real-time by using facial recognition.
Will Personalised Entertainment Keep Viewers Hooked?
Commenting on the report, Mennah Ibrahim said: "Borders are collapsing at the touch of technology, causing much faster trend evolution and similarities with the West, as the Middle Eastern consumer increasingly identifies as a 'global citizen'. Last year, I wrote about the growing demand for brands and lifestyle products to offer Muslim-centric options of diverse identity, social justice and social impact. Interestingly, these recurring themes, along with other emerging trends, are now flowing faster in the opposite direction. This East to West exchange is making those trends' influences felt across consumer categories around the globe – even in space."
The full report can be downloaded from here.