People living with dementia and Alzheimer's could soon be able to relive happy memories of the summer of 1966 and England's World Cup win, thanks to a virtual reality (VR) project.
'The Wayback' – a free-to-download app – uses VR to spark memories and trigger conversations by fully immersing viewers in the sights and sounds of positive moments from the past, that have been recreated and filmed using the latest virtual reality technology.
In 2017, The Wayback released their first film featuring re-enacted street scenes from the Queen's Coronation celebrations. During two days of filming they used hundreds of extras to re-create moments from 1953, paying special attention to any detail that might spark memories, including clothes, food and conversations from the day.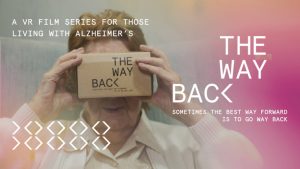 Now the team have launched a kickstarter project to fund a film that will immerse the viewer in the atmosphere, sights and sounds of the summer of 1966 leading up to England's World Cup win. They need to raise £60,000 to produce another immersive film that will focus on the dramatic moments that made July 30th 1966 such a historic and memorable day.
The Wayback is a unique partnership between Thomas Thomas films and Grey London, originally conceived by creatives Dan Cole, Andy Garnett and Howard Green after members of their own families were diagnosed with dementia. With award-winning director Kevin Thomas, producers Emma Fasson, Trent Simpson and Philippa Thomas, 750mph, The Quarry and PR agency Harvard, the collective all provide their time and services for free to support the project.
Speaking about the next film, Dan Cole commented: "When we started The Wayback we wanted to help people relive positive memories in the hope it would connect them to the present day too. Seeing the positive reaction to the Queen's Coronation films, we want to do the same around the summer of 1966 – and England's World Cup win.  It's another chance to relive a moment of genuine celebration and happiness for millions of people."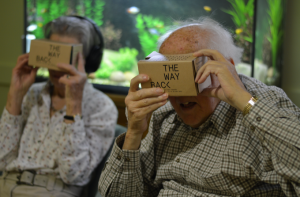 Dr David Sheard, a leading expert in dementia care and reminiscence methods, helped the team when they were developing the project.
"The Wayback virtual reality film offers those living with dementia the opportunity to live in the moment, to go back in time and to just 'be' again. People don't just remember their past memories, they feel the emotions that went with them. The biggest risk to someone living with dementia is to feel a loss of self-esteem, to have no purpose, to feel isolated and unconnected unreached and not connected with," said David.
Care homes that have been using The Wayback say they've seen very positive results. Charlie Hoare, Managing Director from Huntington House and Langham Court added: "It's been so inspiring working with The Wayback Project.  When we shared it with the residents for the first time, you could visibly tell that they were being flooded by emotion; smiling and laughing at happy memories of familiar times. It seemed to instil a feeling of certainty and security."
The team have until May 2nd,2018 to raise the funds, after which production will begin if the target has been met. They hope to release the films in time for 2018's World Cup finals, which kicks off in Russia on 14th June.
Source: The Wayback