In a campaign to reinforce the Asian Flavors of NISSIN Foods Brasil, the company presents its newest executive – straight from Japan. Gotsui Wasabi, is a superstar monster who, after having his TV show canceled, took a trip around the world looking for a new job.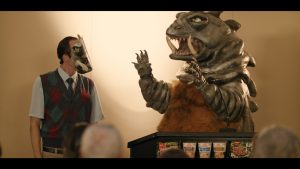 Knowing how successful NISSIN has been over the last 50 years in our country and taking advantage of his "voracious experience" with Asian cuisine, Gotsui took a chance and knocked on the company's door. The risk paid off and, after passing through various positions, the ex-TV show monster was named NISSIN's Vice President of Sales for Asian Flavors 
"Dentsu Brasil suggested putting me in NISSIN's new ad campaign, and I accepted immediately. When you believe in what you do, you deliver your heart and soul," said Gotsui Wasabi. 
That's the story behind this fun campaign that seeks to reinforce the brand's asian flavors: Cup Noodles featuring the flavors Yakissoba, Seafood, and Chicken Teriyaki, as well as Yakissoba in packet form. The campaign is 100% digital and includes a series of 3 films featuring a monster that presents the products and gives the audience professional tips.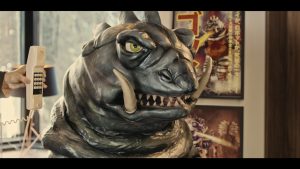 "At Fantástica Filmes, creating multi-platform audiovisual content is in our DNA, as is (of course) creating TV commercials in the classic format. We want to touch viewers with our fantastic stories and make them experience and believe in the scenarios we create. We feel that the more absurd the narrative and visual language, the more the viewer has to believe that what he is seeing is possible," said Marlon King, Scene Director and Creative Partner at Fantástica Filmes + VFX.
Funny and attractive to diverse audiences, the campaign also has a social media component. Created exclusively for the Asian Flavors campaign, the monster, who uses animatronic robotic technology, will appear in front of consumers on the brand's social media accounts. Through posts, memes and GIFs, Gotsui will give career tips and will respond to the public's questions in a humorous way.
"We know that Japanese pop culture greatly influences Brazilians, especially millennials. For that reason, we decided to use Japanese hero shows and monsters as a reference for the campaign, obtaining nearly instant recognition among consumers," explained Mario D'Andrea, CEO and CCO of Dentsu Brasil.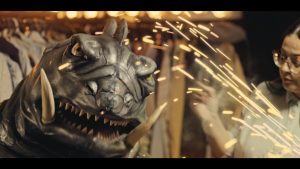 With Fantástica Filmes producing and Marlon Klug directing, the pieces will be launched weekly on the brand's social media accounts and will feature titles containing Gotsui Wasabi's career advice.
Examples include: "Tip 1: Transform a problem into an opportunity," "Tip 2: Never forget who you are," and "Tip 3: Share your knowledge with others." To complement the campaign, NISSIN will feature Gotsui on all point of sale displays across Brazil.
Source: Dentsu Brasil