Irish bookmaker Paddy Power have marked the arrival of Tiger Woods to Ireland for The Open at Royal Portrush with a cheeky reminder of how far he's come, 10 years on from the worst drive of his life.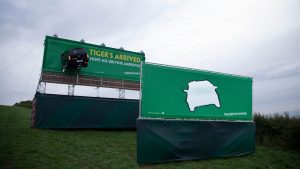 The American sportsman's journey from rags to riches to rehab to riches and back to the top of his game is a remarkable one after he hit rock bottom when an unsuspecting fire hydrant proved no match for his black Cadillac Escalade back in 2009. The image became an iconic symbol of the beginning of his fall from grace, both in his personal life and professionally.
To celebrate the impact of his epic return to form following his recent Masters triumph, and represent the many challenges he has overcome in the past decade, Paddy Power along with Officer & Gentleman, erected a giant billboard outside Portrush to wish him well ahead of this weekend.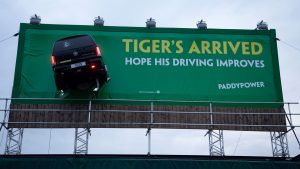 The initial billboard, which is the equivalent in size to a double decker bus, features a SUV shaped hole ripped through it.
A second billboard has a 3 tonne Cadillac Escalade plunged into it and is emblazoned with the words; 'TIGER'S ARRIVED. HOPE HIS DRIVING IMPROVES'
Spokesman Paddy Power – a man also famed for head on collisions, mostly with the Twitter police – explains: "We wanted to celebrate the many challenges Tiger has overcome in the past decade, but we ran out of billboards."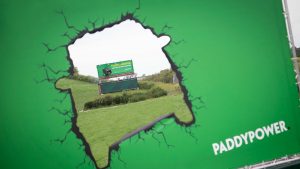 "Woods is an inspirational athlete and if he can bounce back from this with nothing other than the right mind set, a loving partner (or partners) the best doctors available to man and a bottomless bank account, then anyone can. We think that's worth acknowledging," he added.
The SUV was secured mid-air using a custom-made truss structure craned into position on top of a shipping container filled with 10 tonnes of ballast. It took 12 men, 50 hours to build while a 60 tonne machine was used to lift the vehicle into position.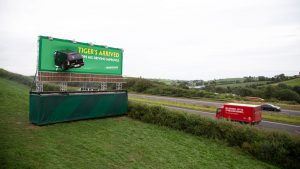 The long wheel base, four-wheel drive Cadillac Escalade featured comes complete with a 6 litre V8 monster-sized engine with over 345 break horse power (the equivalent of three John Deere tractors under one hood), 22″ Rims and enough room inside to swing a golf club!
The well-known Irish betting firm will reveal they intend to giveaway the vehicle used to represent Tiger's crashed car in this stunt via their social media channels over the course of the tournament this week, ensuring one lucky individual will drive home a win this weekend, even if Woods doesn't.
Source: Officer & Gentleman