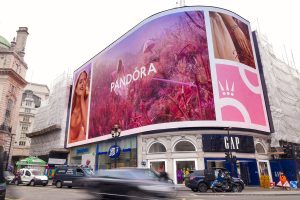 Pandora, the biggest jewellery brand in the world, will this week take over the world-famous Piccadilly Lights as the centrepiece of a UK-wide out of home campaign to showcase its new brand identity and create customer desire for its new Autumn Collection.
Devised by out of home and location marketing specialists Posterscope with Carat, the Piccadilly Lights advertisement is part of a diverse curation of nationwide out of home sites, including 36 large format digital screens comprising other premium, iconic out of home formats such as the Wall@Westfield Domination. 
The campaign, also appearing on more than 1,100 road and mall environments enabling Pandora to dominate the high street and key retail environments, features five different creative executions playing nationally on digital six sheets with full motion video content appearing in malls.
The Piccadilly Lights creative was handled by Ocean Outdoor and the wider out of home creative by is by Iris.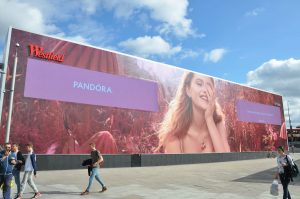 The out of home campaign is part of a wider brand building campaign by Pandora including TV advertising and an immersive live experience which took place in Covent Garden on the 6-7th September featuring a custom-made Pandora Swing, activated by MKTG.
Rosie Reeves, Media Manager at Pandora, commented: "At such a pivotal time for our brand, we wanted an unmissable campaign on the high street that would get people excited about our new identity and distinctive new Autumn Collection. Iconic formats such as Piccadilly Lights will certainly deliver the impact and fame we are looking for, while the placement of nationwide sites will ensure mass reach in close proximity to stores across the country."
Hattie Macdonald, Strategy Manager at Posterscope, added: "Pandora understands the power of premium digital OOH to launch the new brand identity, and they have harnessed the capabilities of being live when and where it matters to maximise cover and cost efficiencies, creating a campaign that appears larger than it actually is."
Source: Ocean Outdoor