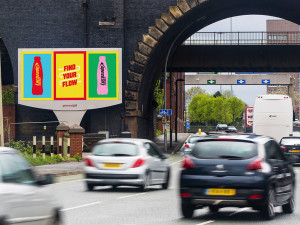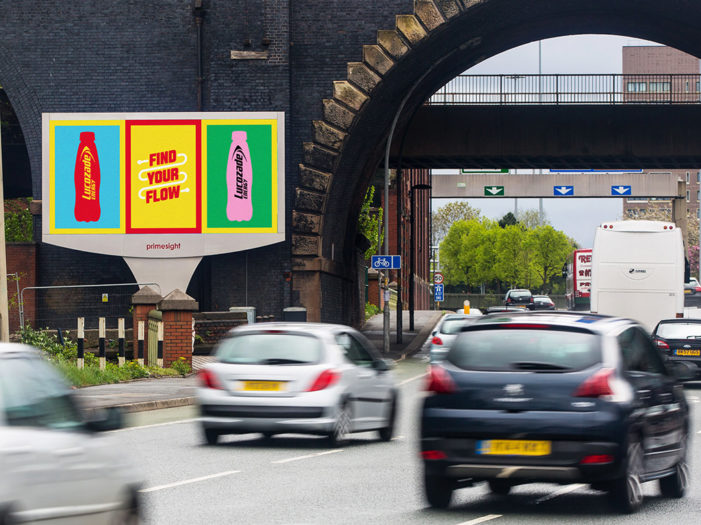 In a UK media first, Primesight, GTN and MediaCom are launching a national real-time campaign for Lucozade Energy, which will see digital outdoor ads synchronised with radio spots across GTN's "Network Drive". This partnership seeks to connect more platforms and more messages together in a world of ever increasing complexity and technology.
With the communications objective to make the Lucozade energy drink more relevant to everyday energy lulls, Out-of-home (OOH) advertising will appear across Primesight's new digital 48-sheet 'Network' in tandem with radio spots across the "Network Drive" package, meaning that drivers will see and hear Lucozade Energy's 'Find Your Flow' messaging while they are travelling.
The innovative campaign will run from June 17-26 nationally in key UK cities and will target 'Everyday Strivers', a demographic built from detailed TGI data. The radio ads will be broadcast solus and adjacent to GTN's traffic and travel bulletins on all major radio groups and stations including Global, Bauer, Absolute Radio and talkSPORT.
Nigel Fung, Group Business Director at Primesight, said: "This campaign shows what Out–of-Home (OOH) is capable of when it comes to real time marketing opportunities and partnerships with other media channels. OOH is one of the most flexible and adaptable media channels the industry has to offer."
Denise Perry, GTN Sales Director, commented: "We are delighted to be working in close collaboration with Mediacom and Primesight to deliver an exciting cross platform solution, ensuring that Lucozade Energy's 'Find Your Flow' messaging is effectively delivered to 'Everyday Strivers' at key drivetimes."
Gill Reid, Head of Out of Home at MediaCom, stated: "We are always trying to push the boundaries in DOOH, whilst ensuring that it drives engagement and relevance. This is a great example of how this can be landed in the real world and across platforms."
Lesley Stonier, Marketing Manager for Lucozade, commented: "We are really pleased with the way MediaCom has worked with Primesight and GTN to develop this innovative use of DOOH and radio to really help land Lucozade's role within on the move occasions."