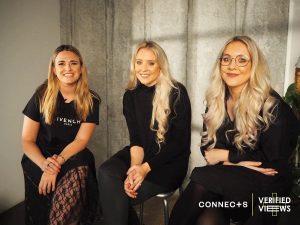 London based influencer marketing agency Connects has partnered with some of the UK's most prominent influencers, to tell their unadulterated stories and explain what makes their views verified.
Launching in January, the IGTV series and longer-format podcasts #VerifiedViews, have been created to help, inspire and bring to life what it is really like to be influential. No scripts, no agenda, no #Spon, just honest opinions and advice on how to build a career as a social media influencer.
The first instalment of #VerifiedViews will be released on Wednesday 23rd January and sees The Mac Twins open up about life on Love Island, being female DJs in a male dominated industry and how they are seeking to improve the nation's gut health.
Viewers can expect open, honest, unfiltered views from Lisa and Alana as they discuss how they feel the responsibility to use their influence to drive positive change.
#VerifiedViews will be available on IGTV in short 10 minute videos, while the full 30 minute interviews will be available in podcast format. Released monthly, each episode of the series will focus on a new influencer and how they're encouraging constructive growth among their followers.
Future episodes of #VerifiedViews include; Edd Kimber (The Boy Who Bakes) on what it's really like in the GBBO tent, Arooj Aftab discusses diversity online and Frankie Bridge speaks candidly on her battle with mental health.
Commenting on the launch of #VerifiedViews, Connects founder and managing director Sedge Beswick said: "At Connects we're constantly looking to push the boundaries of influencer marketing, blur the lines between content and real life. Working with some of our friends from our network of social media influencers, we're excited to bring to light these influencers' lives with behind-the-scenes access to find out what it's like to be an influencer and what makes their views verified. We're hopeful #VerifiedViews will be a platform for sharing these positive and impactful stories for all to hear."
Source: SEEN Connects