YMCA is encouraging people to acknowledge the homeless without judging this Christmas, with a new film created by Southpaw.
The Tunbridge Wells-based agency has created the emotive campaign, using the tagline "Don't look the other way", for the West Kent YMCA to raise awareness of youth homelessness in the local area and encourage people to choose to support the homeless, rather than ignore them.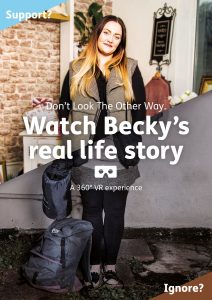 Utilising two 180-degree films linked together to create a 360-degree video viewable through Google Cardboard, the campaign is designed to let the user explore two outcomes of youth homelessness. The resulting film is an ultimately positive story about the support YMCA provides, featuring the true story of a young woman who used to live at the YMCA and now owns her own fashion boutique.
Viewers experience a "dark" side in which she is left destitute and neglected, and the "light side" where the same woman has been given attention, a roof over her head, support, and time from specialist individuals to help them turn their lives around. The work visually describes what happens if we "don't look the other way" at these young people and choose to support rather than ignore.
From 13th December, the film will be posted on Facebook, YouTube, Instagram and Twitter, with paid media to boost the posts. Google Cardboard will be distributed to members of the public for a donation, at a fundraising day, and they can experience the film directly using Oculus Rift at a stand set up in the local Tunbridge Wells shopping centre.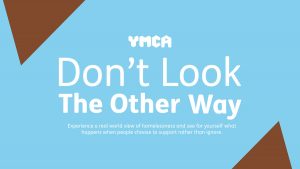 "We're all guilty of it. We've all walked past, pretending it's not happening. But the stark truth is that homelessness is on the rise and young people need more help than ever. So, this Christmas, we're supporting YMCA in raising awareness for its vital charity work and the often unseen help it provides," said Glenn Smith, Creative Director at Southpaw.
"People often think the YMCA simply caters for hopeless young people who are involved in crime or drug abuse. But we only notice the bad that walks in, never the good that walks out. To educate the public about this, we have created an immersive 360 film featuring a real young person who was given the right support from the YMCA and then show what would have happened had they not stepped in."
Source: Southpaw