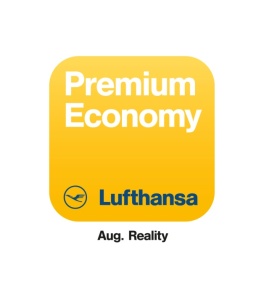 Leading European airline Lufthansa has created a world first Augmented Reality (AR) app to drive awareness of its new class of seating; Premium Economy. The pioneering app, designed by Space, represents a new and innovative type of AR experience, designed to launch via a basic pen drawing on an A4 piece of paper – typically AR technology requires specific, pre-existing images to recognise, such as brand logos.
The app aims to explain what Premium Economy is in a simple and engaging way, creating some virtual theatre around the key message; up to 50% extra space vs economy seating. The app will be promoted via Lufthansa's social media channels.
Bringing Premium Economy to life
Using an iPad or iPhone, users scan an A4 sheet of paper on which they've drawn their own design to launch the app. The new seat then appears on the screen in real-life ratio giving a 360 degree view and allowing customers to experience the space intuitively, by experimenting with the chair and exploring all the extra details and benefits for themselves.
To further bring to life the extra 50% more room, users can experiment with filling up the seat space with CGI animations of different objects inspired by Lufthansa Premium Economy destinations such as cricket balls from Bangalore.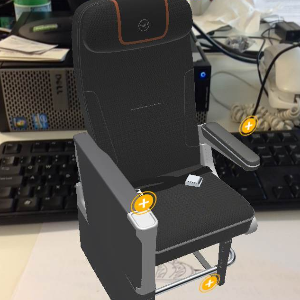 Premium competition
Space has also developed a competition within the app, offering the chance to win a pair of Premium Economy tickets to any Lufthansa destination. Users can enter by guessing the number of jelly beans that can fit in the space provided by Premium Economy class.
Developed by Space in partnership with the production studio Happy Finish, the Premium Economy AR app is now available for download on iPad and iPhone, followed by nine new language versions later in the year.
Becky Schmidt, Manager Marketing and Online, UK & Ireland, Lufthansa, said:
"Having created a new and much higher standard for the Lufthansa Premium Economy offer it was only fitting to develop a world first mobile app to increase awareness. Lufthansa's premium economy offer includes a number of great new benefits, but the most compelling is up to 50% extra legroom. Space has created this revolutionary new app to be both practical and fun, so that our customers can see for themselves the benefits offered by Lufthansa's new cabin class."
Mat O'Brien, creative director, Space, said:
"The challenge for Lufthansa was to generate awareness of this new class simply and effectively. The app is an interactive way to drive home the benefits of Premium Economy by closing the physical and emotional space between customers and the brand. We've delivered a world first for Lufthansa in the digital space that amplifies the Premium Economy offer whilst building brand intimacy in a fun, informative application."