Carlsberg tasked Taxi Studio with bringing their 'Play on Pitch' promotion to life, a worldwide competition that offers lucky winners the chance to celebrate UEFA EURO 2016 in true VIP footballer fashion.
Having already formulated a robust on-pack promotion strategy, while creating the global rebrand for Carlsberg, the real creative challenge for Taxi Studio was finding the most appropriate way to visually communicate the great prizes on offer while ensuring that the idea adapted seamlessly off pack, complimenting Carlsberg's ATL campaign work.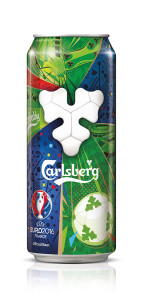 Jonathan Turner-Rogers, Associate Creative Director at Taxi Studio expands on Taxi's approach: "Our vision for the brand was to always deliver a total pack design from core products and sub-brands to limited editions and promotional packs. For this project, we produced creative that put the consumer at the centre of the action – capturing the moment that two lucky winners would experience stepping out onto the hallowed turf. Conveying the on-pack promotion both with style and wit, our solution transcended off the pack and into all Carlsberg's above-the-line promotions."
Richard Whitty, Senior Marketing Manager for Football at Carlsberg said: "Carlsberg's role in football is all about doing it better for the fans and our Play on Pitch campaign does exactly that. VIP Tickets to the semi final of UEFA EURO 2016 in Lyon, and then returning the next day to that very same pitch for an amazing football experience with some of the greatest legends to ever play in the competition. The guys at Taxi Studio have depicted this prize perfectly with a design that will be used not only through packaging and POS but across digital touch points too, anchoring all activity back to one key visual that depicts probably the best prize any football fan could dream of."
At the same time, Carlsberg are launching limited edition packaging to commemorate their association to UEFA EURO 2016 – the brief to Taxi was to create a radical design that evoked the party atmosphere surrounding the tournament.