To spread awareness on the Dubai Fitness Challenge 2018 (DFC) and encourage health and well-being across the Emirate, du created a motto: #WalkTheTalk, motivating its employees and inspiring the wider community to commit to the challenge and lead more active and healthy lives.
To bring the idea to life, the brand, in association with creative agency TBWA\RAAD, released an online video, portraying a rapper who never quits running to the beats and rhythm of his song, against all odds, overcoming all sorts of distractions that try to get in his way.
du is a strategic sponsor of the Dubai Fitness Challenge initiative launched by HH Sheikh Hamdan bin Mohammed bin Rashid Al Maktoum, Crown Prince of Dubai and Chairman of Dubai Executive Council in 2017. DFC aims to make Dubai the most active city in the world and to inspire its citizens and visitors to participate in 30 days of fitness activities.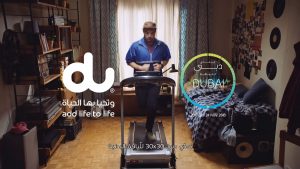 Credits:
Agency: TBWA\RAAD
Chief Creative Officer: Walid Kanaan
General Manager: Joe Lahham
Executive Creative Directors: Fouad Abdel Malak, Manuel Bordé
Associate Creative Directors: Oswaldo Sa, Alex Pineda, Gonzalo Palavecino
Agency Producers: Rouba Asmar, Gloria Abu Diwan
Senior Account Director: MarcAnthony Haddad
Production House: Good People
Director: Samir Syriani
DOP: Yves Sehnaoui
Executive Producer: Sabine Farah
Producer: Chantal El Haber
Post Producer: Maria Succar
Post Production: Lucid
Editor: Cherine Debs
Colorist: Belal Hibri
Music & Sound design: Anthony Sahyoun
Source: TBWA\RAAD