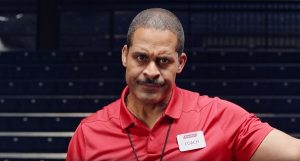 American convenience store brand RaceTrac and R/GA Austin release a new campaign with five comedic spots to promote "Wintastic Rewards," a brand new instant win game played via the brand's app. Guests must simply download the RaceTrac Rewards app to their smartphone, make a qualifying in-store purchase and scan their phone at checkout for a 1-in-3 chance to win exciting in-store offers!
Directed by Eli Green at A Common Thread, the five commercials show 'Coach' telling us how to re-write the playbook and find out 'what winning tastes like' – sometimes winning tastes like pizza. Full-service Austin-based post house TBD Post was brought on by R/GA to move the spots from set to screen. Editor Catie Cacci worked closely with the team from R/GA Austin to capture the crucial comedic timing.
Catie Cacci, Editor at TBD Post comments: "I've worked on a number of comedy spots throughout the years and creating a rapport with this R/GA team has been a highlight. This was the fourth RaceTrac campaign I've worked on and I've really enjoyed the creative relationship formed with this fun team of R/GA folks. Of course, with "Coach" in this campaign, making things funny wasn't too difficult. He was awesome and his character was fun to edit. Having a room full of laughter is an absolute joy, and it makes the collaboration as an editor all the more satisfying."
Colorist and Co-founder of TBD Post, Brandon Thomas graded the spots, bringing out the 'RaceTrac red' and giving the campaign the aesthetic of a classic sporting movie. Brad Engleking engineered the sound mix to ensure there was tension in every pep talk and every clap of the chalkboard.
Headquartered in Atlanta, Georgia, family-owned RaceTrac has been serving guests since 1934 and now operates more than 475 convenience store locations in Georgia, Florida, Louisiana and Texas. Among the favorite items guests can win in the campaign are free pizza slices, breakfast sandwiches, Swirl World frozen treats, donuts, freshly brewed "Crazy Good" coffee and a variety of fountain, frozen and bottled beverages.
The commercials will run on digital, social and radio channels throughout Summer 2018.
Source: TBD Post