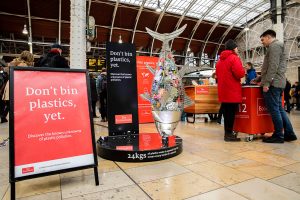 The Economist, a leading source of analysis on international business and world affairs, unveiled a new experiential marketing programme encouraging Londoners to challenge their assumptions about plastic pollution and its effect on ocean health.
Entitled "Don't bin plastics, yet" the activation, brought to life by global brand experience agency Sense, comprises an art installation of a fish made from recycled plastic dredged from the river Thames. The fish weighs 24 kilograms, equal to the weight of plastic dumped in the ocean every tenth of a second. The programme is inspired by a recent article in The Economist, The known unknowns of plastic pollution, which explores what we know and don't know about the costs of the activity.
Visitors discover that of the 6.3 billion tonnes of plastic waste produced since the 1950s, only 9% has been recycled. On current trends, by 2050 there could be more plastic in the world's waters than fish, measured by weight. Yet only 10% of 3.6 million tonnes of solid waste discarded each day across the globe is plastic. And the alternatives to plastic are not always better.
For example, a British government analysis from 2011 calculated that a cotton tote bag must be used 131 times before greenhouse-gas emissions from making and transporting it improve on disposable plastic bags. The Economist writes that the cost of plastic pollution is comparatively overstated, even if more can be done to reduce it.
"The 'Don't bin plastics, yet' activation brings The Economist's mind-stretching journalism to life and challenges consumers to rethink what they know about plastic pollution," said Mark Cripps, Chief Marketing Officer, The Economist Group. "This programme ensures our globally curious readers are armed with useful information about the consequences of plastics versus other environmental pollution, and the gaps that remain in our understanding, to help them make educated decisions about their actions."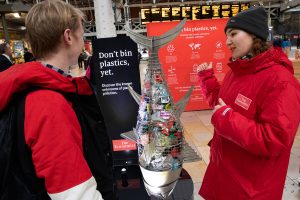 "Visitors will be offered a free coffee in an edible cup by our brand ambassadors and encouraged to take part in a conversation about the plastics debate, including the impact on the oceans and the need for more plastics collection and recycling," explained Sense Account Manager Loren Heer.
The 'Don't bin plastics, yet' activity is part of The Economist's live content marketing programme, which aims to attract new readers to The Economist through creative and provocative real-world experiences. People who take part in the programme have the opportunity to subscribe to The Economist at an introductory rate of £12 for 12 weeks, and receive a subscription gift.
The activation kicked off at London's Paddington Station on 20 November and will continue to Waterloo on 29 November, Victoria on 11 December and Liverpool Street on 12 December. More dates will be announced as they become available.
Source:Â Sense