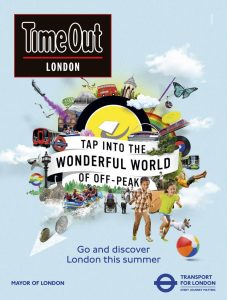 Time Out, a leading global media and entertainment brand, has launched a major communications partnership with Transport for London (TfL), London's strategic transport authority, to inspire Londoners and visitors to take more off-peak journeys and make the most of the city.
As part of its wider 'Wonderful World of Off-Peak' campaign, TfL and the Time Out Creative Solutions team are collaborating with Wavemaker and VCCP to develop and deliver an integrated content partnership across Time Out channels. Inspiring content around the most exciting off-peak things to do – all easily accessible by travelling across TfL's bus, Tube and rail network – is at the heart of this collaboration which is aimed at driving awareness of off-peak travel benefits and savings.
A key element of the partnership is bringing to life the iconic Tube map as a new interactive cultural map of London, with more than 300 stations having regularly updated Time Out recommendations. Launching August 7 at timeout.com/culturaltflmap to help plan days out across the city, people can click on the highlighted stations on the map to find museums, art galleries and even street art near them, all of which then link to Time Out's curated expert content.
Further to that, a 360-degree campaign will be integrated across all Time Out channels over nine months, launching in print with a 4-page cover wrap, advertorials, display advertising and badging for 'your perfect weekend' features. Digitally, there will be online feature packages, native traffic drivers to partnership content, co-branded display ads, CRM, digital display takeovers and roadblocks on partnership content. In addition, there will be promoted Instagram posts and Stories, Facebook posts, and bespoke videos.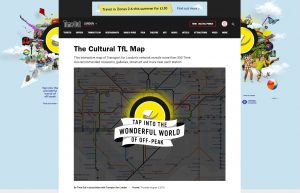 To make it even easier to plan off-peak adventures, Time Out will integrate TfL's 'Journey Planner' widget across thousands of pages at timeout.com, enabling users to easily plan their journeys and visit new areas of the city. TfL has also recently updated its Journey Planner to show fares information, helping customers to know the cost of an adult journey before they travel. A brand-new site section within the 'Things To Do' homepage will provide an always-on link to all partnership content throughout the campaign.
TfL is also expanding its existing range of cultural maps, which previously ran on the Piccadilly line and London Overground to cover all 11 Tube lines and the DLR. These will appear on the network and timeout.com from 10th August and reveal a wide range of attractions, hidden gems and unknown curios across London.
This partnership follows Time Out and TfL's successful 'Here for the Night Owls' campaign earlier this year to drive usage and change perceptions of Night Services. The activity delivered outstanding results, garnering hundreds of thousands of visits to the partnership content, with research showing that 32% of those who engaged with the campaign took at least one additional journey as a result.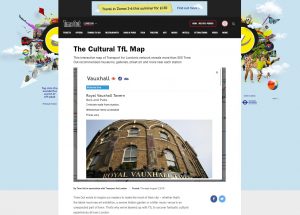 Jack Woodcock, Director Creative Solutions EMEA at Time Out, said: "Following our hugely successful campaign earlier this year, we're excited to be working with TfL on such a comprehensive long-term partnership. Time Out and TfL have tons in common, both inspiring and enabling people to make the most of the city, whether that's locals, out-of-towners or visitors. Time Out has been on a mission to get people out to experience what's new cool, weird and wonderful in urban culture and entertainment since 1968, and TfL makes it easier to get to and from these places."
Chris MacLeod, Marketing Director TfL, added: "A huge proportion of Londoners pick up and enjoy Time Out or browse their website during their commute to get ideas about what to do with family or friends after work or at weekends. Working together allows TfL to reach this audience in the perfect environment and inspire them to make the most of London during off-peak – that's evenings, during the day and at weekends. The campaign's core message of tapping into the 'Wonderful World of Off-Peak' plays to the strengths of Time Out: expert content and reviews across digital, print and social channels, as well as the ability to encourage millennial do-ers to explore all the city has to offer."
Source: Time Out