The UK's largest online marketplace for booking hair and beauty treatments, Treatwell, has launched 'Life Saving Wax' in partnership with Public Health England's (PHE) 'Cervical Screening Saves Lives' campaign.
Around 2,600 women are diagnosed with cervical cancer in England each year and around 690 women die from the disease. It is estimated that if everyone attended screening regularly, 83% of cervical cancer cases could be prevented.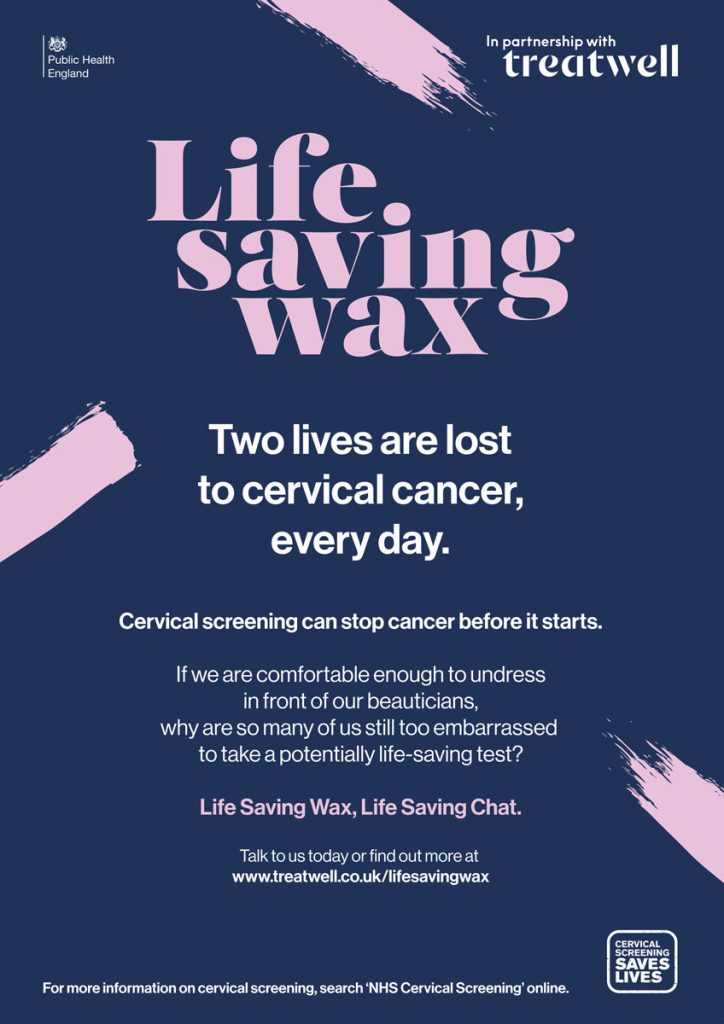 However, attendance at screening is declining year on year; currently one in four (28.6%) women aren't attending when invited. This is even higher in the 25 – 34 age group despite them having more abnormalities detected compared to others (38.9% for women aged 25 – 29 and 31.2% for women aged 30 – 34).
Research amongst younger women indicates there are a number of barriers to attending, including lack of knowledge about the purpose of the test, fear that it might be painful, feeling embarrassed and not being able to find the time.
While the number of women attending the potentially life-saving test year-on-year is decreasing, the number of women engaging in intimate waxing treatments in England is going up. New research released from Treatwell has found that nine in 10 (90%) women aged 25 – 34 maintain their pubic hair in some way and approximately 1.2 million women in this age group are heading to beauty salons to do so.
With Treatwell seeing a year on year increase in the number of bookings for intimate waxing (+84% 2017-18), the 'Life Saving Wax' initiative aims to leverage the unique dynamic between a beauty therapist and customers visiting salons for intimate waxing treatments by enabling beauty therapists to open up the conversations on the importance of cervical screening.
When looking at the relationship between women and beauty therapists, almost half (47%) of those surveyed said they would be comfortable talking about personal topics with them and six in 10 (59%) see beauty therapists as a trusted person to talk to. In addition, three quarters said that they listen to the advice given by beauty therapists (74%) and find they're sensitive and understanding of their needs (75%).
The 'Life Saving Wax' initiative aims to break down the barriers to cervical cancer prevention by encouraging women to talk openly about cervical screening, feel confident to choose whether to accept their invitation to be screened when invited or, if they've missed previous invites, to book an appointment at their GP practice.
Up to 500+ Treatwell partner salons across the country are getting involved in the initiative, placing information throughout their salons and having conversations with their customers to highlight that cervical screening can stop cancer before it starts. Salons will be directing women to where they can find further information, support, tips and advice on how to make screening more comfortable as well as offering information to take away to share with friends and family.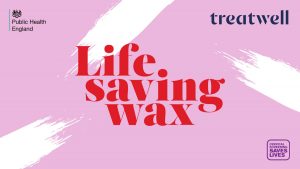 Liz Hambleton, Beauty Director at Treatwell, commented: "We see thousands of women booking intimate waxes everyday through Treatwell, so when we heard that women aren't attending a potentially life-saving test due to embarrassment, we wanted to see how we could change this. Just by talking about cervical screening with one person, it's amazing the knock-on effect it can have. It can really change attitudes and behaviours. Our beauticians are not health experts, but they are human, and they speak to women all day everyday about many personal topics. Using this position of trust, they are uniquely placed to be able to empower women on the subject of cervical screening and provide them with the information needed to make an informed choice, in an environment where they are more likely to be engaged. Just one conversation is all it could take to remind or encourage someone to go for their screening when invited. That one conversation could help stop cancer before it starts – it could save a life."
Professor Anne Mackie, Director of Screening Programmes at PHE said: "Two lives are lost every day to cervical cancer but this needn't be the case. Cervical screening can stop cancer before it starts as the test identifies potentially harmful cells before they become cancerous and ensures women get the right treatment as soon as possible. The decline in numbers getting screened, particularly those aged between 25 – 34, is a major concern as it means millions of women are missing out on a potentially life-saving test. We are thrilled that Treatwell want to start more conversations about screening with women. We hope more will feel informed, confident and choose to attend."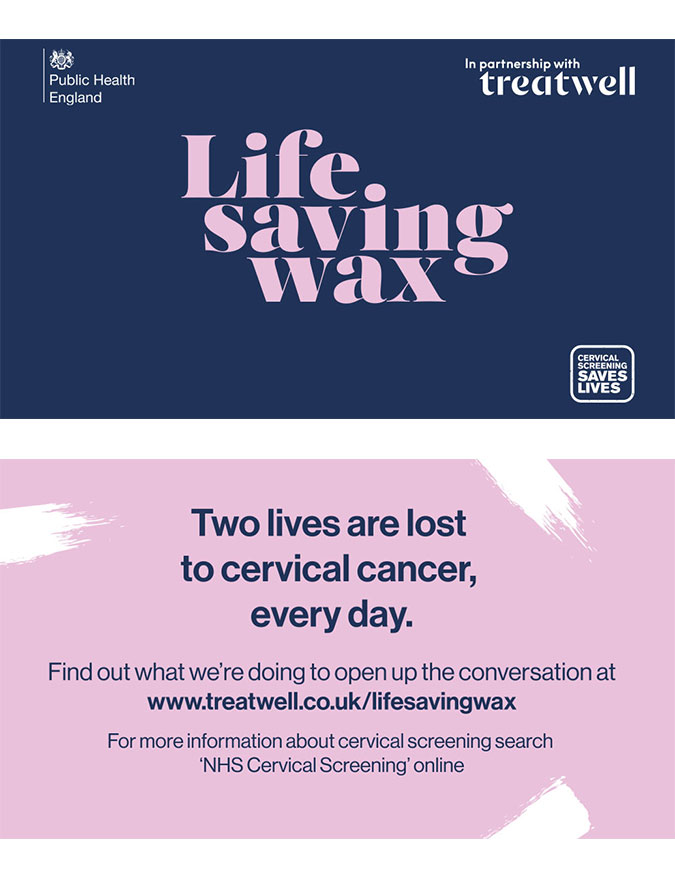 TV Doctor, Dr Zoe Williams is supporting the campaign and comments: "We know some women feel embarrassed or worried about their cervical screening, and that's perfectly normal. However please remember, doctors and nurses are trained to be able to make the process as comfortable as it can be. Cervical screening only takes a few minutes, and provided your results are clear you will only have to go once every three or five years depending on your age. It's a few minutes that could save your life. We need to raise awareness of the importance of cervical screening, so women feel empowered to attend when invited."
Beautician, Tanja Westendorff from Sugaring in London, who is trialling the initiative comments: "We are thrilled to be involved in the Life Saving Wax initiative – it was a no brainer for us. Women come to us to look after themselves from the outside so anything we can do to open the conversation and ensure women look after themselves from the inside to is really important. Just by talking to our clients in a simple way about cervical screening makes a huge difference and it's been easy to discuss as Treatwell have provided us with lots of materials. The feedback we have received so far from clients has been amazing and we have had people thanking us because it's encouraged them to look out for their invite when it comes and not to ignore it."
TV Personality, Cara De La Hoyde, is supporting the initiative and says: "I attended my routine cervical screening a couple of years ago and the screening identified some abnormal cells in my cervix. Luckily after treatment, everything was fine, but it reminded me how important screening is. We often think that 'it will never happen to us', however, I've lost loved ones to the disease, so I know first-hand that anyone can be affected by cervical cancer, which is why I am so passionate about this topic. I hope that by sharing my story and encouraging people to talk about cervical screening as a part of everyday life, more women will choose to take up the invitation of screening and that this will ultimately save more lives."
Life Saving Wax is part of Public Health England's Cervical Screening Saves Lives Campaign which is supported by charities including Jo's Cervical Cancer Trust and The Eve Appeal.
Source: Treatwell