The UK OOH advertising industry is coming together to support the charity Missing People and resurrect the national digital OOH campaign to run weekly appeals. Originally launched in July 2012, the renewed digital OOH campaign will be rolling out nationwide across transit, city centre, and roadside locations.
The new initiative is organised by digital OOH ad tech specialist QDOT and seeks to publicise regionally targeted appeals across the UK to help harness the public's support in the search to find missing people. The creative features the missing person's name, age, photo, and the date and location they went missing, and the free number to call or text for sightings – 116 000.
OpenLoop, the dynamic creative optimsation ad server from QDOT delivers the geo-targeted appeals. This year also sees QDOT utilising measurement platform PlayTrack, to provide independent third-party verification of campaign play out, to give the charity full visibility of when and where the creative played to help determine media performance.
The digital OOH media owners participating in the Weekly Appeals campaign include JCDecaux, Maxx Media, Limited Space and Perfect Fit Media, with the campaign set to extend across all major UK cities in the coming weeks.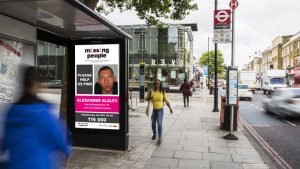 Ross Miller, director of fundraising and communications, Missing People Charity, commented, "OOH visibility is so important in our search to find useful information that helps families reconnect with loved ones. OpenLoop allows us to run regionally targeted searches that we can update in a moment, and PlayTrack provides full feedback so we can understand exactly what presence we had across all inventory. Digital billboards have proven to be an immensely powerful tool in the search for missing people, and we are enormously grateful to the outdoor media owners involved for their incredible support."
Ben Putland, managing director of QDOT, said: "Digital OOH's impact, value, and significance in today's digital world is what makes this campaign so powerful. We are delighted to partner with Missing People again on a campaign that has done so much good at raising awareness and encouraging people to participate in the search."
Source: QDOT