Walmart has officially launched an AI-enhanced personal shopping service, called Jetblack, though it's US-only for now.
Jetblack is a new app out in beta. The idea is that you can use it to text your shopping request. J, Jetblack's built-in assistant, will then do the rest.
J can order you goods and gift wrap any presents or assemble gift bags. You can also text a photo or screenshot of something, and J will find it. JetBlack offers free courier delivery, and if something doesn't work out, you can text J to easily return something.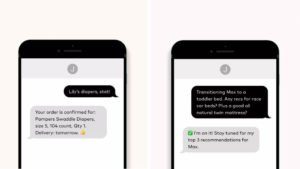 Jetblack, currently limited to Manhattan and Brooklyn, is powered by automated bots, obviously, but it uses humans to help fulfill your requests. "Need it. Text it. Get it. Jetblack is the easiest way for busy moms to shop," the app's description reads.
Oddly, the app is "influenced by moms", and all of the products in the Jetblack catalogue are "researched, curated, and tested by real NYC moms you can trust".
Deliveries will arrive on the same day, or the next, without additional charges. There's no minimum to spend, and Jetblack will collect any returns. Gift wrapping is also free. However, membership is available by invitation only, and that costs $50 per month.
The service has technically been quietly available for eight months, with members buying more than 10 items a week, Bloomberg has reported.
Source: Lovely Mobile News