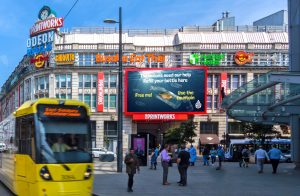 In the run up to National Refill Day (June 19), 23red and award-winning environmental campaigning organisation City to Sea are using the creative power of Ocean's connected outdoor screens to encourage people to use refill stations and reusable water bottles, rather than buying water in single-use plastic bottles.  
In a UK media first, the campaign turns three full motion screens in Manchester, Birmingham and London into "Hydration Stations" where people can refill their water bottles, an action to highlight the need to protect our seas from plastic pollution and how we all play a part in that.
Hydration Station was one of the winners in Ocean's annual digital creative competition which fosters bold new concepts in digital out-of-home.  It launches in Manchester on The Printworks on June 1, on The Media Eyes in Birmingham on June 5, which is designated World Environmental Day, and in Canary Wharf, London on June 19 to mark National Refill Day.
23red creative director Sean Kinmont said: "Plastic pollution of our seas and waterways is an urgent problem. By turning Ocean screens into Hydration Stations we directly link the refill of your bottle to the removal of a plastic bottle from the seas. The gamified mechanic of releasing a trapped fish adds to the engagement of interacting with the large screen."
Jo Morley, Head of marketing and campaigns at City to Sea, said; "Refill is a campaign that everyone can get involved with – whether you're an individual, small business, or international retailer! We know people want to help stop plastic pollution, and the Refill campaign puts the power to do just that in peoples' hands. If just one in 10 Brits refilled once a week, we'd stop 340 million plastic bottles a year at source. We're excited that 23red and Ocean are bringing Refill on the road, reaching people on the go and showing them just how easy it is to find free drinking water and make single-use plastic water bottles a thing of the past."
Prior to each interaction, the screens will feature a looped "waiting mode" animated film of a captive fish trapped inside a plastic bottle floating in a polluted ocean. The screens carry a request to passers-by to use the water fountain positioned in front of the screen as a bottle refill point.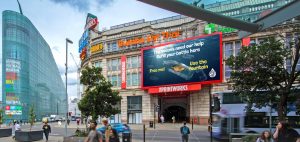 When it is used, the fountain triggers the release of the fish by making the bottle trapping it disappear. Once free, the fish thanks the user and swims away.
To make that possible, the fountains are attended by staff with tablets which are connected to the screens via Ocean's fast wi-fi network. The attendants use a purpose-built app to trigger the on-screen animation, which resets after each refill is complete. In addition, the screen counts how many plastic bottles have been stopped from reaching our waterways.
Ocean head of marketing and events Helen Haines said: "This is a fun and engaging interactive campaign. It turns selected screens into something hugely practical to communicate an important environmental message. It is a worthy winner of Ocean's digital creative competition."
Ocean's 10th annual digital creative competition launches shortly.
Source: Ocean Outdoor