Did you ever notice when at the movies, only the real fans stay to watch the closing credits until the end?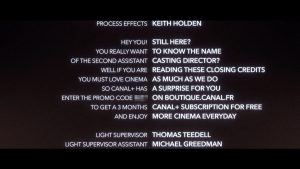 CANAL+, the number one channel for cinema lovers in France, decided to surprise committed cinema enthusiasts with a little gift hidden in the closing credits.
In collaboration with the MK2 cinemas and BETC, CANAL+ hid a secret message in the end credits of several films during a week's time. The message consisted of a promo code giving away a three month subscription to CANAL+ for free.
So if you're in France, next time you go to the movies – keep your eyes open until the end!
Source: BETC