EE has marked the recent launch of its enhanced BT Sport offer with a new brand campaign starring Kevin Bacon and cook and football fan Delia Smith.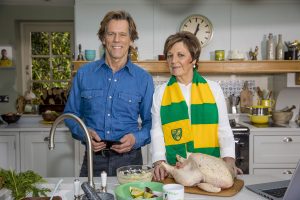 The campaign kicks off ahead of the new football season and shows how easy it is for EE customers to watch all of the best BT Sport action on their smartphone, and even cast from their phone to their TV whenever they choose, all with inclusive data and without an additional contract.
The ad opens with Delia, wearing her Norwich City Football Club colours with pride, struggling to juggle preparing a roast chicken and watching a game on her laptop screen. Just as it would seem she is going to miss some of the action, Kevin strolls in with a bunch of carrots ready for roasting and a solution that means she gets to see the game – and in all its glory on the big screen.
With a simple tap on his phone, Kevin uses the enhanced BT Sport app from EE to cast the football straight from his phone to the TV. Delighted with the fact they can enjoy the game together in HD, Kevin and Delia are just in time to witness a goal and celebrate together.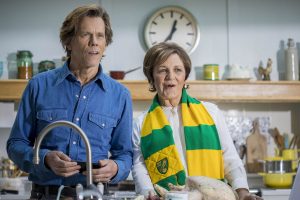 Pete Jeavons, Director of Brand Marketing at EE, said: "This new campaign shows just how easy it is for EE customers to now cast the action from BT Sport straight from their phone to their TV. After an incredible summer of football, our customers can continue the football fever, and loads of other great sport, by streaming this season's games whenever they like and wherever they are. With no contract, the first three months of access and casting free, as well as inclusive data – our customers are now able to watch the content they love, the way they want to watch it, with no ties."
EE continues to drive digitally integrated campaigns with a focus on social across Twitter, Pinterest and YouTube, as well as other video display partners. This campaign will run across TV, out of home (OOH), cinema and video on demand (VOD) – with edits and content developed specifically for a range of digital and social channels.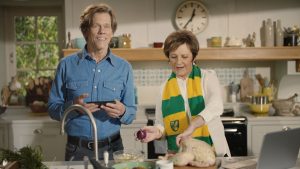 This new offer and campaign forms part of EE's mobile convergence strategy to give customers more flexibility on how and where they watch their favourite content. With the biggest and fastest 4G network in the UK, EE customers will be able to enjoy BT Sport in more places than any other provider.
With the upcoming season set to be the best yet on BT Sport, EE customers will be able to enjoy all UEFA Champions League and UEFA Europa League matches exclusively on BT Sport, more FA Cup and women's football, all of the rugby Heineken Cup and more boxing than ever before.
The campaign kicks off with a 30-second TV ad that will launch on 3rd August during Coronation Street. The campaign was developed by EE's advertising agency, Saatchi & Saatchi London. EE's media buying agency, Essence, has led the multi-million-pound investment in placement.
Source: Saatchi & Saatchi London