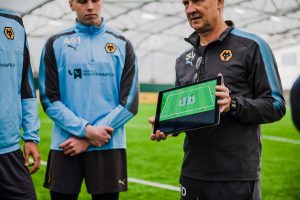 Shropshire digital agency Reech is helping Premier League football stars of the future thanks to the development of a new academy app.
Reech, based in Shrewsbury, has created the app for Wolverhampton Wanderers FC to enable its young academy players and their families to have easy access to training schedules, coaching tips and more.
The club, which has just gained promotion back to the top flight of English football, contacted Shrewsbury-based Reech to help them create a bespoke digital system for their academy.
The Wolves Academy App allows young players and their parents to see their upcoming training schedules and matches, and any preparation they need to do for the forthcoming week.
It also includes access to videos of the drills they have been practicing, tactical formations, education, sports science and nutrition information, safeguarding policies and other information from the club's coaches.
Reech technical director James Brinkler said: "Wolves originally approached us to help them create a digital manual they could use but soon realised that with our expertise, we could help them further within their academy. They strive to do everything at the highest level at the academy, but with so many young players and families involved, they realised they needed a better way to keep everyone up-to-date with weekly activities. We've worked closely with the club, its coaches and operations staff throughout to ensure we managed to capture all of the different functions they wanted available to their academy teams. The club has been piloting it for nine months now and we will be launching an updated second version in August – just in time for the start of their return to the Premier League."
Wolves Academy manager, Gareth Prosser, said the new app would revolutionise the way they were able to communicate with players and their families.
He said: "Technology is a massive part of football – and life in general – these days and we wanted to really embrace it in the best way possible. Contact with players and families is important for us, as is the way we educate and inform our young players about the philosophy and culture of the club. The app will allow us to communicate with academy members in the most effective way possible. Previously, we would just send out emails to our academy players and their families, which wasn't ideal. The app has taken things to the next level, with a wealth of information readily available and instant updates sent straight to their phones. Feedback on players has always been very subjective before, but now technology allows us to back it up with statistics and evidence. Some of our young players live away from home with host families, so the app will also allow their families back home to keep up with their child's progress. We'll be continuing to develop the app in the future and introducing new features to make it even more interactive then it is now. Ultimately, everything we do here at the Wolves Academy is about nurturing our young players and preparing them for the next stage of their careers. Thanks to Reech, the app will give them a great professional technology platform to sit alongside the excellent academy facilities and coaching we already provide."
Source: Reech