[KGVID]https://marcommnews.com/wp-content/uploads/2017/11/Car-Tax-ad.mp4[/KGVID]
DVLA has today unveiled a new campaign reminding motorists to pay their car tax. Those who aren't paying their car tax are costing the treasury tens of millions per year in lost revenue, which led to Y&R London's campaign targeting the 'chancers' avoiding their car tax and culminating with the strapline 'tax it or lose it'.
The activity created by Y&R London features a 30 second radio ad. It will also run across VOD, print, digital display and as a 360 degree social campaign.
The creative features a car seemingly blending into its background, but which has been clamped with the recognisable yellow clamp. The hand-painted car, was the work of renowned artist Carmel Said, whose skill is painting objects to camouflage into their background.
The radio ads encourage car owners to 'tax it or lose it' and show that whether they are from East Ham driving a van or behind the wheel of an SUV in Sutton on Sea, the DVLA will find you. The voiceover states that the DVLA has the records of over 37million cars and are currently clamping or impounding over 10,000 untaxed cars every month.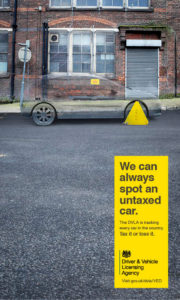 The campaign breaks on 4th November with radio ads running on channels such as Capital, Heart and Jazz FM with print appearing in The Sun, Sun on Sunday, The Times, Sunday Times, Evening Standard and Metro. The social campaign will run on both Instagram and Facebook, with Facebook hosting the 360 degree creative. The media has been handled by Carat Manchester.
Jon Burley, chief creative officer at Y&R London commented: "By hiding a car in plain sight, we wanted to demonstrate that no one is able to hide when it comes to not taxing their car. The campaign targets those who think that they can get away with it, while in reality the DVLA will find you and will clamp you.
Oliver Morley, Chief Executive at DVLA added: "Every month we are clamping or impounding over 10,000 cars across Britain. This campaign highlights that you can't get away with not taxing your car and in fact if you don't, you could lose it. "
Credits:
Production Company: Vue
Photographer: Garry Simpson
Agent: Cathy Bennett
Producer: Rob Murray
Editing house: GPS
Editor: Joe McNally
Post production company: GPS
Producer: Alex Plantin
Sound house: GPS
Artist: Carmel Said
Advertising agency: Y&R
Producer: Charlotte Davis
Creatives: George Robb
Business Director: Anna Crabtree
Account Executive: Laura Moon
Source: Y&R London