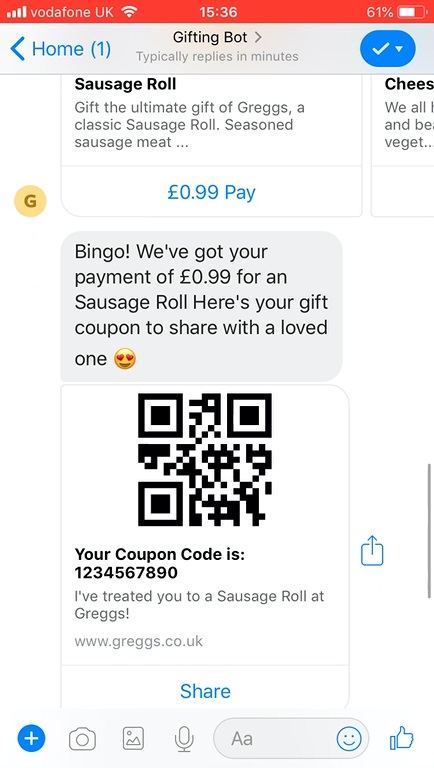 Fetch, the award-winning mobile-first agency, part of Dentsu Aegis Network, has announced it has developed, (in collaboration with Autosermo) the first ever UK transactional Gifting Bot within the QSR space.
Fetch is helping Greggs bring the joy of giving to everyone this festive season. The Gifting Bot will allow the customer to purchase Greggs goods and send to their friends through Facebook Messenger. Media activation, planning and buying was run by Dentsu Aegis Network's sister agency, Carat Manchester.
James Lodge, Director of Mobile, Fetch Manchester said: "We spotted an opportunity to go beyond the traditional gift cards and allow consumers to engage in random acts of kindness over the Christmas period. We're hugely excited to be working with Greggs and Carat on the Gifting Bot and to be leading the way in innovation. With the proliferation of messenger apps and over 50% of users opening their messenger app at least once a day, it was a no brainer to build the Greggs Gifting Bot in a place of high engagement to drive scale and virality."
The gifting bot integrates into Greggs existing ePOS infrastructure, enabling the redemption at any of Greggs 1854 UK-wide locations via a simple scan of the user's smartphone device, but we're not stopping there, we will continue to evolve the product into third party payment platforms such as Apple and Android pay keeping user experience at centre of everything we do.
Hannah Squirrell, Customer Director at Greggs, said: "The festive season is all about generosity and giving, and we've now made it easier than ever to give the gift of Greggs, so there really is no excuse for a disappointing secret Santa present this year. We're excited to be the first company to use bot technology for gifting in the UK and we hope our customers get into the spirit of the bot, even after the Christmas period."
Both B2B and B2C companies are beginning to use bots more and more to increase the opportunity to reach consumers and engage in a better one-on-one experience with them.
Lodge continued: "We believe that this Bot will offer a quick and fun means to give their millions of customers a chance to give the gift of Greggs this Christmas."
Source: Fetch