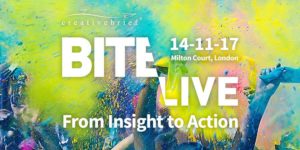 On November 14, MarComm News attended Creativebrief's BITE Live event in London. The main theme of the day was going from insight to action and transforming the richness of ideas into real business value.
BITE Live invited some of the world's leading brands and their agency partners to reveal how they have turned cultural and societal insights into the most creative and effective campaigns of the year. This is how the day progressed:
'I Can'Â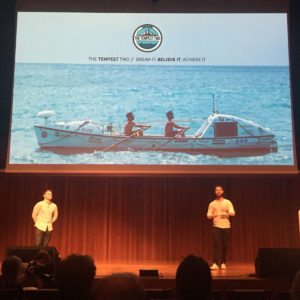 Following a brief introduction from Creativebrief's Managing Director Charlie Carpenter, the day kicked off with what turned out to be our favourite talk of the event! James Whittle and Tom Caulfield from The Tempest Two, told us about their awe inspiring and amazing story of rowing across the Atlantic.
In just 18 months the duo physically trained, raised £80,000 via cold emailing, and then with little to no prior rowing experience, set off on their 3,000 mile journey across the Atlantic. They displayed their 'I Can' attitude and showed how an idea between two friends turned into a creative brand adventure.
James and Tom have since quit their jobs and dedicated all their time (much to the dismay of their girlfriends) to The Tempest Two, where they are changing how brands use content by showing their customers that anything is possible.
Legends @thetempesttwo #bitelive pic.twitter.com/g5PaVa0VgL

— Marc A Young (@youngy343) November 14, 2017
This talk was incredibly inspiring and a great start to the day. When asked to explain what The Tempest Two wanted the audience to take away from their presentation, they said they wanted people to know "they are capable of anything they want to achieve but its having the mind shift to recognise that and commit to something."
BITE Trends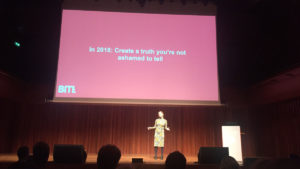 The Tempest Two's whirlwind of a talk was followed by the Managing Editor of BITE, Kara Melchers, who explored the main themes from 2017 and what they mean for the year ahead. Her key trends of 2018 were as follows:
Diversity to Belonging
Welcome to the Darkside
A Guide to Self Improvement
Rise of the Bots
Brand Transparency in the Age of Truth
Age of Misinformation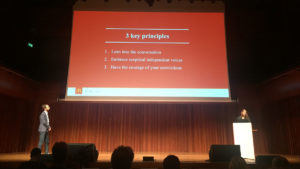 Kara's final trend was all about creating a truth that the brand is not ashamed to tell, which perfectly segued into the next talk by McDonald's VP of Marketing Emily Somers and Leo Burnett London's Global CSO, Josh Bullmore – who spoke about how McDonald's debunked the myths and misinformation surrounding their food.
They spoke about the Age of Misinformation, the anatomy of fake news, and told the story of how they placed the brand's worst fears at the heart of their advertising. This presentation was particularly interesting because it was extremely relevant to the fake news epidemic the world is facing.
The Wonderful Everyday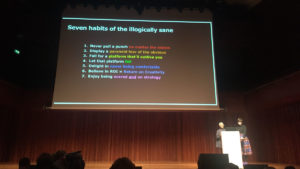 The next talk was another agency-client duo of Kemi Anthony (IKEA) and Katie MacKay (Mother London), who presented the conception of their 'The Wonderful Everyday' campaign.
Kemi and Katie revealed how IKEA built a brand for 'The Wonderful Everyday' by focusing on the long term health of the brand and creating a platform that combines the brand's core beliefs and values in order to generate brand love and commercial growth.
This talk further highlighted the importance of building a long term brand, which will stick with consumers as a business in the long run.
Ikea's Kemi Anthony: Brands might face criticism for creating diverse campaigns but that should just drive us forward #bitelive https://t.co/8tEVet3fbF pic.twitter.com/9CRf1BYX8V

— Marketing Week (@MarketingWeekEd) November 14, 2017
Some of the main themes from the morning's speakers included taking action, realising your potential, making the truth interesting, embracing the skeptical voices, developing an idea that will outlive you, and having the courage of your own convictions.
Talking Diversity & Equality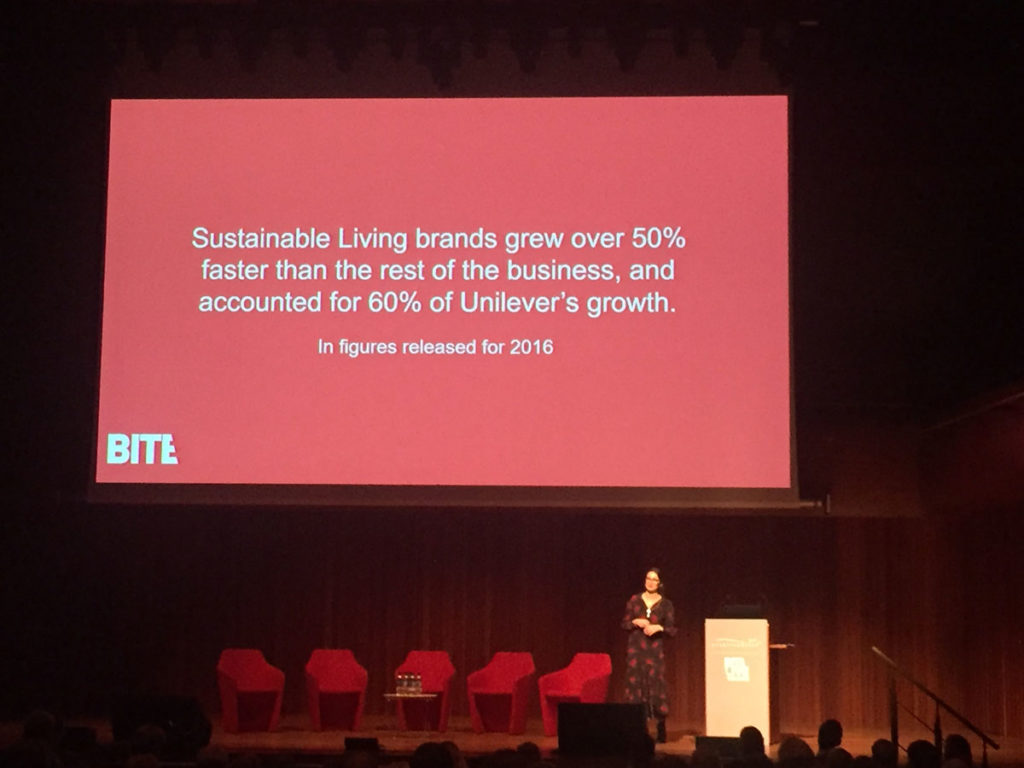 BITE's Izzy Ashton moved the conversation forward by highlighting the importance of creating a higher purpose for your brand and being responsible for your actions and behaviours, in order to move the needle.
Then we heard from Lucy Abel at StoneWall and Mr. President's Laura Jordan. The duo talked about equality and LGBT rights through launching a three year campaign to inspire, educate, and energise a passive section of the community, encouraging them to take more meaningful action on LGBT rights in their everyday lives.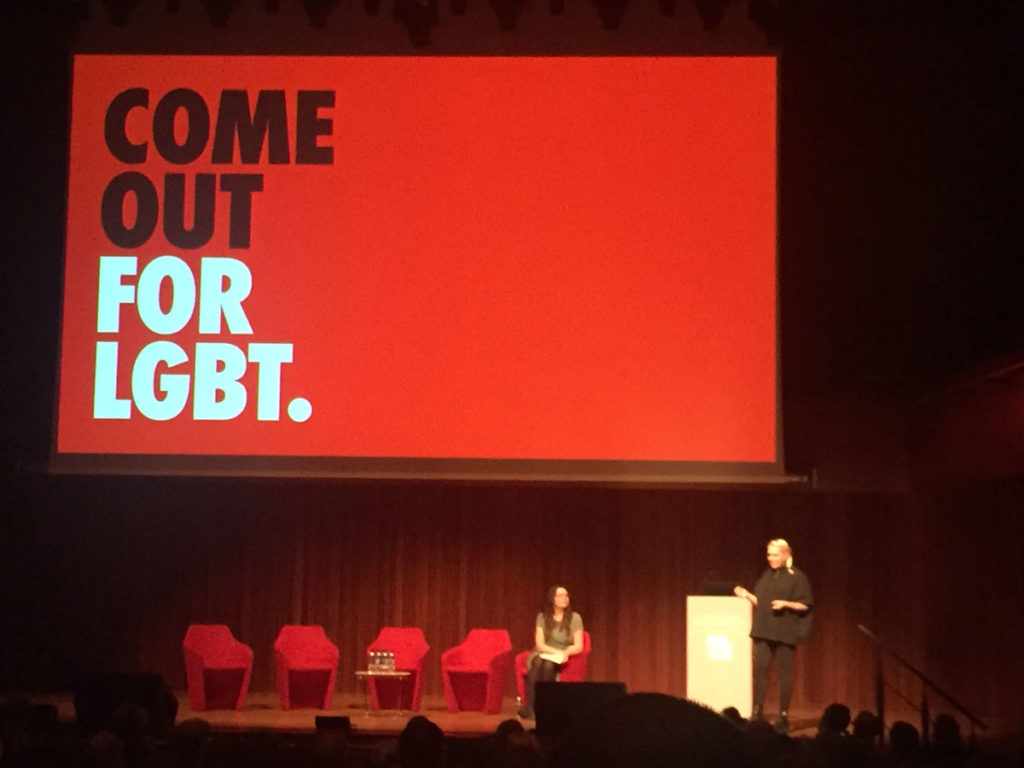 Commander of the Most Excellent Order of the British Empire, Jude Kelly followed this by asking why gender equality takes so long to achieve and what this means for our industry and beyond. She explained that it takes courage to be an activist, but that real change is possible through a positive, optimistic movement.
Jude Kelly CBE reminding everyone creativebrief #BITELIVE that gender parity on pay is still 170 years away #Equality matters

— Talent For Marketing (@talentformarket) November 14, 2017
These two talks were particularly relevant to today's society as they touched upon subjects that are difficult to talk about. Â Jude, Lucy, and Laura are all pushing the envelope and encouraging change in these areas via their Women of the World (WOW) initiative and the 'Come out for LGBT' campaign respectively.
A panel consisting of Jude, Mars Chocolate UK's Michele Oliver, Utopia's Nadya Powell and Above+Beyond's Zaid Al-Zaidy, then continued the discussion on diversity.Â
Real creative genius needs to come from a diverse and intersectional place @JudeKellySBC founder of @WOWtweetUK #BITELIVE

— Curated (@curateddigital) November 14, 2017
@zaidalzaidy We all have our own biases, but if we accept differences and align we can start to have a conversation and move forward with diversity #BITELIVE

— Above+Beyond (@Above_Agency) November 14, 2017
.@mitchyov on being a pacemaker rather than a role model when it comes to diversity: "I can do things that keeps up the pace and momentum on diversity and hopefully others will go on and do more" #bitelive

— Sarah Vizard (@scviz) November 14, 2017
"For 25 years we've been taking pictures of white families celebrating Christmas." @NadsBads on the systemic racism that led to #ChristmasSoWhite #SoWhiteProject #BITELIVE

— Creativebrief (@creativebrief) November 14, 2017
Speak Easy
Following lunch, we were welcomed back by a quick audio clip recapping the history of voice. This was a precursor to J. Walter Thompson's The Innovation Group and Mindshare who presented the key finding of their Speak Easy: The rise of the voice-activated world, study.
53% of smartphone users think that voice tech will help people interact more as they won't be looking down at their screens #BITELIVE

— Curated (@curateddigital) November 14, 2017
"There's a tendency when you interact with a voice that you project a personality onto it." @JezP76 from @mindshare_uk on our emotional response to Alexa #BITELIVE pic.twitter.com/3y3wvaT2dX

— Creativebrief (@creativebrief) November 14, 2017
74% regular voice tech users believe brands should have unique voices and personalities #bitelive #speakeasy2017 pic.twitter.com/tMtOgKtwOX

— Jade Perry (@jadeperry20) November 14, 2017
Fascinating insights from #speakeasy2017 If the past few years have been all about #mobile, 2018 is going to be all about #voice @creativebrief #BITELIVE pic.twitter.com/VGs8tkrW80

— Southpaw (@southpawagency) November 14, 2017
Find Something Discomforting
Next, we listened to Nick Adams at Sense and The Economist's Marina Haydn discuss how they built an always-on campaign, which led to thousands of new users with a lifetime value of millions and ushered in a new internal department, just by selling less.
Their presentation affirmed how you can't go wrong by focussing on what's interesting about your brand, even if that might be daunting.
They even brought along some of their 'bug ice-cream' for the audience to try, in order to prove their point!
Strawberry locust ice cream anyone? @TheEconomist & @senselondon changing perceptions of sustainable alternatives @creativebrief #bitelive pic.twitter.com/fNlLTFzRhY

— Dragon Rouge (@DragonRougeUK) November 14, 2017
Just had cricket infused ice cream thanks to @TheEconomist #BITELIVE pic.twitter.com/dSIgyLvAjT

— Amy Shaw (@AMShaw91) November 14, 2017
Give Peas a Chance
The penultimate talk was entitled Hippeas: From Idea to Global Brand, which had the brand's founder Livio Bisterzo share how the snack went from concept to shelves in a whopping eight months!
Alongside James Nixon, Managing Director of Jones Knowles Ritchie, this session showed that a great brand identity, clear purpose and a strong focus on doing good can transform an idea into the global marketplace.
Give peas a chance with @hippeas_snacks and founder @liviobisterzo #BiteLive pic.twitter.com/hy7bQXBNmI

— Alec Samways (@AlecSamways) November 14, 2017
.@hippeas_snacks & @jkrglobal – 'Caring, Innovation, Personalisation, Culture and purpose key ingredients to building a #millennial brand' #food #marketing #BITELIVE pic.twitter.com/0vERyqpUQN

— FAB News (@fabnewslive) November 14, 2017
Reforming Capitalism
The final keynote of the day came from Alain de Botton, best selling author and philosopher, who discussed the future of capitalism and the philosophy of everyday life. This talk was a great way to end the day because it wrapped up all the topics that were discussed over the course of the event.
"At the end of the day, we can't commercialise relationships and happiness, instead we have to place profit higher up the pyramid and create a brand purpose that is glued to these values. This is turn will create a new kind of entrepreneurial spirit and hopefully produce national wealth," said Alain during his talk.
Modern capitalism is not making enough of the right type of goods (ie meaning, values etc) – @alaindebotton #Bitelive

— Amy Shaw (@AMShaw91) November 14, 2017
The future of capitalism is fulfilling higher needs says @AlainDeBotton in a stimulating finale to a great day #BiteLive

— Alec Samways (@AlecSamways) November 14, 2017
The afternoon sessions were extremely engaging and informative. We learned about easing the cognitive load and finding your voice from Mindshare and The Innovation Group, being broad minded and globally curious while facing discomfort and polarisation from Sense and The Economist. Â We also learned about thinking big and doing good through vision and vitality from Hippeas and Jones Knowles Richie and the future of capitalism from Alain de Botton.
Final Thoughts & Reactions
Overall, attending BITE Live was a meaningful and inspiring experience. Our main take aways from the day include making the truth interesting, changing culture through stories, and pushing yourself to be more daring both in business and in your personal lives.
@Amelia_Torode's closing remarks & take away from the event 1. In a world of misinformation it's imperative to make the truth interesting 2. We can change culture through stories – both product and people stories 3. Don't think about role models. Think about pace makers #BITELIVE pic.twitter.com/eTRlxnU9Ed

— Creativebrief (@creativebrief) November 14, 2017
Great talk from @liviobisterzo and @JamesNixonjkr on @hippeas_snacks #BITELIVE @creativebrief pic.twitter.com/UCsFSHzib6

— JonesKnowlesRitchie (@jkrGlobal) November 14, 2017
What a brilliant inspirational day @creativebrief & a tremendous swag bag, thanks. #BITELIVE

— Moore Thought ? (@missandreamoore) November 14, 2017
A stonkingly good day at #BiteLive. Much to noodle on.
Thank you to the organisers; a really well put together event.

— James Whatley (@Whatleydude) November 14, 2017
Pacemakers, storytelling and the future of capitalism. Heady stuff at #bitelive with @creativebrief and @alaindebotton pic.twitter.com/IFfSe5RLcI

— mike sharkey (@mike_sharkey) November 14, 2017
Great day at #BITELIVE – particularly inspiring talk by @alaindebotton – thank you @creativebrief pic.twitter.com/LXh51ouORo

— Charlie Martyn (@selrahc7) November 14, 2017
Reflecting on today #Bitelive – inspirational speakers, many topics covered Fake News, gender equality, diversity, just doing it, future of audio, to the future of capitalism. Fantastic event @Creativebrief

— Naz Birant (@Naz4ALF) November 14, 2017
Article by Julia Brown, Correspondent, MarComm News