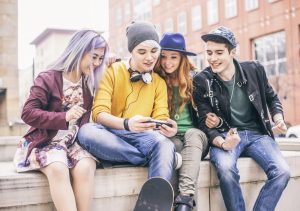 A study revealed shows that the 18-24-year-olds of Generation Z trust brands over anything else bar the police: a quarter (25%) say they trust brands, a greater number than trust the government, the media, their Church, influencers, or social platforms.
But at the same time, three-quarters of them (75%) think they are under a lot of psychological pressure in the digital age – and 63% of those aged 25+ agree.
The survey of 2,000 Brits was carried out by media agency UM as part of UK by UM, its ongoing research into stereotyping in media and advertising. It found that two-thirds of Generation Z (65%) worry about their mental health, compared to around half (46%) of those aged 25 and over. And this was far from their only source of concern:
Around half (48%) are concerned about being seen as a success by other people, against only 18% of those aged 25+
68% of those aged 18-24 worry about being good enough, compared to 39% of those over 25
38% worry about being bullied, double the 19% of those aged 25 and over.
In fact, the only aspects of their lives where over-25s worried more than their younger counterparts were political instability, sustainability and physical health – three areas out of 26. And just as concerning, more than half of 18-24s (56%) said they had had felt anxious at some time during the past 30 days, 54% had cried and 53% had felt lonely – in each case significantly more than those aged 25 and over.
However, the research also highlighted how much Generation Z is being misjudged and stereotyped, with 71% of 18-24s saying that they feel young people are misunderstood. Two-thirds of them (68%) also believe the world is a harder place than ever for young adults – for instance facing an increased pressure to look good and a greater financial burden than previous generations. This perception is also shared by more than half (53%) of those aged 25+.
Brits aged 18-24 say they are most commonly represented in the media as 'self-obsessed', 'lazy', and 'irresponsible', but the stereotypes they find most offensive are that they are 'unintelligent' and 'unambitious'.
In fact, the survey found that 18-24-year-olds are inquisitive and highly selective consumers of content, especially when compared to their older peers. In addition, young people rate themselves as being more 'adventurous', 'tenacious' and 'imaginative' than the national representative figure. They are also self-aware and conscious of their flaws, rating themselves as being significantly less 'dependable' and 'reliable' than the national average.
Sophia Durrani, managing partner, strategy at UM, comments: "As the world becomes a more polarised and complex place, we see greater levels of anxiety in younger people who often find themselves navigating, as yet, uncharted waters. But this goes hand in hand with a perhaps more pragmatic approach to life. In a 'post-truth' society, it's hard for young adults to anchor themselves to the narratives of politics, nation, or even faith. Our research suggests many turn to brands as potent symbols of identity – they know what they stand for and they trust them. This means there's a very real opportunity for marketers to empathise with younger audiences, to help them to manage the pressures and connect with them – but only as long as they do so in an authentic way."
Source: UM