The Innovation Group presents The Future 100, our snapshot of the year ahead and the 100 most compelling trends to keep on the radar. https://t.co/196tQURZO5 pic.twitter.com/bFQ2OuEjPD

— JWTIntelligence (@JWTIntelligence) December 4, 2017
J. Walter Thompson's Innovation Group unveiled its fourth annual Future 100 Report.
Future 100: Trends and Changes to Watch in 2018 helps readers keep a tab on emerging consumer behaviour with 100 original trend predictions from the Innovation Group. Sliced across 10 categories, each trend is delivered in digestible snapshots that explore how the trend is already showing up in consumer behaviour today, signs that it's growing more popular and an original analysis on why brands and marketers should be paying attention.
From trends like "Streaming Wars" and "Kid Influencers" to "Hipster Luxe" and "The Internet of Eyes and Ears," "Farming 2.0" and "Trendy Teetotalism," The Future 100 foresees a 2018 full of transformational change and new opportunities for brands.
Lucie Greene, Worldwide Director of the Innovation Group, said of the report: "The future is happening faster than ever, thanks to the rapid pace of tech innovation and digital culture. New models of commerce are causing disruption and scaling rapidly. In food, drink and beauty, we see nascent trends exploding in a nanosecond, thanks to social media. Meanwhile, new technologies are completely transforming the way we interact with commerce, marketing and the internet. AR, VR, AI, voice activation and 5G will all create seismic change in the way we work and live. Coupled with this, we are seeing consumers who are more demanding of brands than ever – and focused on wellbeing, experiences and self-improvement in all aspects of their lives."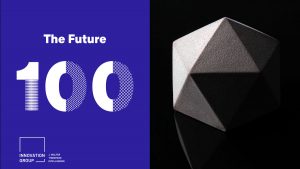 The 10 lenses under which the trends are categorised are: Beauty, Brands & Marketing, Culture, Food & Drink, Health, Lifestyle, Luxury, Retail, Tech & Innovation, and Travel & Hospitality.
Highlights include:Â
"New Millennial Careers" – Amid changing lifestyles and work patterns, new professions and side hustles are emerging for millennials. The latest? Doulas, Micro-influencers and on-demand video crews (for Instagram Stories, YouTube and more).
"Gen Z Beauty" – The highly sophisticated teenage generation is already transforming the beauty space, and new creative cosmetic lines are appealing to this fluid, expressive cohort. Meanwhile, they are already emulating the aspirations and behaviours of their older millennial siblings, embracing wellbeing in their lifestyle.
"Manufacture 2.0" – Adidas' new Speedfactory is the latest example of how sports brands are using advanced rapid-manufacture techniques from 3-D printing to weaving, to manufacture bespoke products on demand.
"Gourmet Babies" – The latest must-have for high-end tots is food that reflects their millennial parents' healthy, adventurous values. Cue: Clean baby food, Korean black rice congee and more.
"Lab Grown Luxury" – The latest frontier in luxury is material science – perfecting synthetic diamonds, using biotech and innovative techniques to create luxury fabrics and leather without the cruelty, or the carbon footprint.
"Trippy Wellbeing" – Psychedelic drugs are experiencing a popularity not seen since the 1960s. In keeping with today's wellness-focused culture, however, they're now being explored as gateways to a more balanced self.
Predictions from Future 100 reports often hit the nail on the head. Later in December, the Innovation Group will explore how 2016's trends played out in 2017 in a series of posts on the J. Walter Thompson Intelligence website.
Source:Â J. Walter Thompson Intelligence