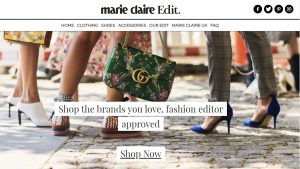 Marie Claire UK, the premium fashion and beauty magazine brand published by TI Media, has launched a unique, first-in-class online fashion aggregator platform: Marie Claire Edit.
Designed and built in house within TI Media, Marie Claire Edit brings to life the influential women behind Marie Claire fashion whilst providing brands with new native and social advertising formats which allow users to shop and browse the brands they love directly from the Marie Claire website.
Working with thousands of brands across the UK at the time of launch, including Farfetch, Selfridges, ASOS, Topshop, NET-A-PORTER and MATCHESFASHION.COM, Marie Claire Edit combines the best of designer and high street fashion with the expertise of Marie Claire's editorial team creating content and curating the latest trends and inspirational shopping.
Under the strapline 'Shop the brands you love. Fashion Editor approved', Marie Claire Edit offers a key endorsement angle for brands, with a Marie Claire Edit approved badge for items carefully selected by Marie Claire's Fashion Editors. It also offers a new point of purchase, leveraging Marie Claire's digital reach in fashion, which delivers strong SEO by targeting all long-tail keyword shopping terms.
Marie Claire Edit will be donating 1% of sales made to the leading global children's charity Plan International UK. The charity is dedicated to promoting children's rights and gaining equality for girls everywhere.
For the launch, Marie Claire has worked with London-based production house Tailored Media, to create a promotional video that showcases the site and the editorial team behind the concept.
Marie Claire is also collaborating with Pinterest, the visual discovery engine, and Farfetch to offer readers a chance to fill their wardrobes with the latest festive fashion by winning a Farfetch voucher. To qualify for a chance to win, participants will create a board on Pinterest and save their favourite looks from the Marie Claire Edit website.
Pinterest is a place for people to discover ideas for their own personal taste and go from inspiration to purchase. People have always used Pinterest for shopping inspiration, to find new trends, styles and products, and figure out their preferences.  With more than 23 billion fashion ideas (Pins) on the platform, Pinterest is becoming the go-to place for people from all over the world to discover style inspiration and define their day-to-day look. This first-time collaboration will give people the chance to save the ideas they discover on the Marie Claire Edit to a Pinterest board for curating their favourite looks in one place.
Marie Claire UK has been a trailblazer in the retail space, firstly with the launch of its premium beauty store Fabled by Marie Claire and Fabled.com, and the recently announced platform extension for this business with the next.co.uk partnership.
The Marie Claire Edit project was created and led by Marie Claire's Head of Fashion Affiliates Emily Ferguson and was developed collaboratively with the wider editorial team under the stewardship of Marie Claire Editor in Chief Trish Halpin and Marie Claire Managing Director Justine Southall.
Justine Southall says: "The job we do as magazines is to inspire, curate, edit, recommend and help our readers and customers make choices. Marie Claire has tried to anticipate the way that women want to engage with us and to shop, and with Fabled by Marie Claire and now with the launch of Marie Claire Edit, we have taken that into new territory. Now the power and influence of Marie Claire's trusted fashion editors extends even further to offer brands and retailers a new way to engage with consumers through quality native content."
Source: TI Media