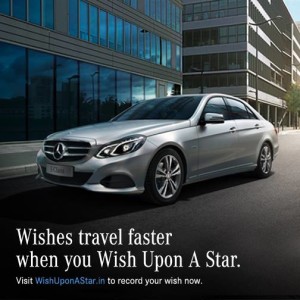 The iconic Mercedes-Benz E-Class has completed 20 years in India. It remains as revered now, as it was 20 years back and is still by far the highest selling luxury sedan in India. To celebrate 20 years of this Star in India, Mercedes-Benz launched an intriguing 360-degree brand campaign, 'Wish Upon A Star'.
Conceptualized by Creativeland Asia, the campaign is engineered to spread the fascination associated with the E-Class, not just among the patrons and the potential customers, but amongst millions of fans across the country.
An innovative mobile invitation was shared with people. Recipients can only read the invite if they hold their smartphones aiming towards the sky. This has generated a lot of buzz as the fans have begun sharing the invite with friends on social media and even on WhatsApp.
The 'Wish upon a Star' campaign urges the audience to make their wishes around the E-Class, through a digital app, a dedicated microsite and even at specially created wishing booths across dealerships.
The most heartfelt and unique wishes stand a chance to be fulfilled.
The campaign has become an instant hit. Unmetric, a social media intelligence firm, rated Mercedes-Benz India amongst Asia's top-performing brands on social media within a week of the campaign's launch.

Roland Folger, Managing Director & CEO, Mercedes-Benz India, commented, "The E-Class is the first luxury car to be made in India and over these 20 years have defined the entire luxury segment. Being a key product in our product offering in India, 20 years of the E-Class in India presented the right occasion for us, to create a campaign that touches the heart of the customers, in a way that has never been done before.
Wish upon a Star campaign was created keeping in mind the fascination surrounding the E-Class and its strong customer preference. We are very excited with this unique concept and the execution of Wish Upon a Star campaign, and we are overwhelmed with the response that we have been receiving from our customers and enthusiasts. The campaign beautifully represents the brand ethos of Mercedes-Benz which aims at winning the customers' heart."
Sajan Raj Kurup, Founder and Creative Chairman, Creativeland Asia, says, "2 years into partnership with Mercedes-Benz India Limited we have seen the brand reaching no.1 position in Luxury automobile market. Dominating the social media platform for engagement against its competition. When we were briefed that E-Class will be completing 20 years in India, Creativeland proposed a campaign #Wishuponastar where the entire nation can wish around the E-Class.
We are glad the campaign has received a great response and it is even better to see via the videos and text messages posted on the website how India sees the tristar and what it means to them. It is also a strategic move to have this campaign come out at the right time, while we lead the market it will be great to see the nation wishing upon a star."