Netflix is promoting its "Lost in Space" reboot with a new interactive audio adventure on Google's smart speakers: The "Lost in Space" audio game encourages participants to help key characters of the show after their spaceship crash-lands on an unknown planet.
The audio adventure, which lasts between 5 and 6 minutes, features a branched narrative and multiple-choice questions and answers. It was recorded with participation of the show's cast, and produced in collaboration between Netflix and Google.
Users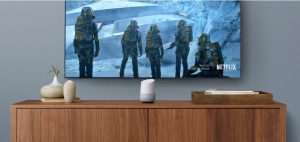 can launch the audio adventure by asking their Home speaker to "play the 'Lost in Space' game." They don't need to have any previous knowledge about the show, and the audio adventure is spoiler-free.
This isn't the first time Hollywood has tapped smart speaker makers to promote their properties. Warner Bros. and DC Comics previously worked with Amazon to bring an ambitious audio adventure dubbed "The Wayne Investigation" to the company's Echo smart speakers. And Fox promoted the reboot of "24" by bringing the trademark ticking-clock sound of the show to the Echo.
Kantar Research recently estimated that 34% of Americans currently own a smart speaker. 50 percent of these device owners use their smart speaker several times a day.
The smart speaker category is being led by Amazon, which is estimated to have a 66 percent market share, according to Kantar. Google is second with a market share of 30 percent.
Source: Variety