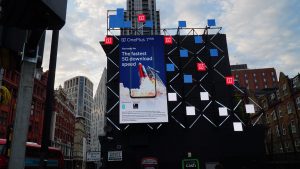 Mobile technology company OnePlus and global digital creative agency AnalogFolk announce the launch of their new Digital Out of Home (DOOH) campaign across six iconic London sites. The DOOH spots celebrate the launch of OnePlus' first 5G enabled smartphone, the OnePlus 7 Pro 5G, with the fastest 5G download speed.
RootMetrics in London found the OnePlus 7 Pro 5G is capable of download speeds of up to nearly 700Mbps, which is more than ten times 4G's maximum real-world speed of up to 60Mbps. When using 5G, customers will be able to download movies in seconds, watch videos in HDR 10+ and play games without experiencing lag.
The campaign aims to bring awareness for OnePlus's latest 5G smartphone via DOOH ads across several iconic London sites including Canary Wharf, Euston London Bridge, London Underground, Old Street, Shoreditch and Waterloo.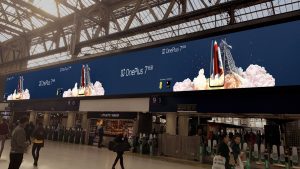 Helene Lee, OnePlus' UK Marketing Director commented: "At OnePlus we focus on making products which provide users with the fastest and smoothest experience possible. This pursuit of quality goes into everything we do and an approach we always look for our partners to share. Working with AnalogFolk, we wanted to deliver a campaign which demonstrates the powerful performance of the OnePlus 7 Pro 5G in a tangible, impactful way."
Bill Brock, CEO and Founder, AnalogFolk said: "Since the brief came in we've been really excited to start working with one of the most exciting and innovative technology companies. OnePlus launching the DOOH campaign at some of London's most iconic sites is a testament to the brand's ambition in the UK. The speed at which the project was executed is a tribute to the teams involved and is a fitting way to honour the rapid speeds of the OnePlus 7 Pro 5G." 
The campaign is currently live across London and will be live until the 11th of August.
Source: AnalogFolk