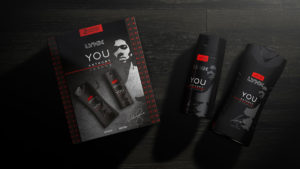 PB Creative has designed the packaging for a new limited-edition Lynx range to celebrate its collaboration with world heavyweight boxing champion Anthony Joshua.
PB worked with Lynx, Anthony Joshua and his management team to develop an identity that is unmistakably Lynx, communicates the new brand message of inclusivity, and points to the way Anthony Joshua represents 'modern masculinity'.
The direction that the design needed to take came to PB Creative's Co-Director Ben Lambert almost immediately: "The Lynx team showed us some images of Anthony, and as soon as I saw the photo of him under the spotlight, I could see how well it would work on pack. We had such confidence in our vision that we presented just the one concept to the stakeholders – and they loved it. There are only a few people in the world who are iconic enough to be recognisable in this kind of imagery and Anthony Joshua is one of them. The strength of this image, coupled with the simplicity of Lynx's brand aesthetic, complement each other perfectly to reflect the brand and Anthony's understated confidence."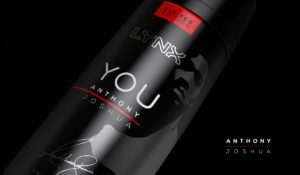 The new design also makes a feature of Anthony's underscored signature, which complements the red keyline brand mark that is already on the pack.
It was felt that Watford-born Anthony, who has been using the brand since he was a teenager, was the perfect person to lead the new Lynx message of inclusivity, of striving to be the best version of yourself, of celebrating the unique quirks and 'flaws' that make you 'you'.
Lynx Brand Manager Dilraj Athwal says, "Anthony Joshua is the best boxer in the world, but he doesn't fit that macho stereotype. As a character, he breaks boundaries – he's a joker and a normal guy, as well as an outstanding athlete and spokesman for his sport. Over the past 20 years or so, Lynx has projected a very masculine, laddie message. Boxing nods to those traits, but with Anthony, who is so relatable, the whole thing becomes more inclusive, which is where Lynx is going as a brand. He ticks all the boxes and is the perfect man to move things on from The Lynx Effect to the new Find Your Magic campaign."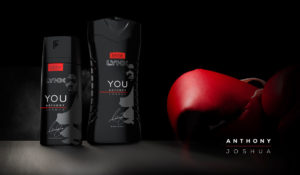 Lynx and Anthony Joshua have grown together, having collaborated since 2015, well before the boxer's world-champ days.
Athwal adds: "Anthony really knows the brand and still uses it today, so he's a great representative. PB Creative totally understood what we wanted to achieve. The sleek, sophisticated design reflects both Lynx and Anthony Joshua perfectly."
The new design features across the YOU range, which includes a body wash and body spray, and a gift pack that contains both items and which forms part of Lynx's Christmas gifting range.
Source: PB Creative