One of the few things that unites the UK is our love of pets – nearly half of us have a cat or dog as part of the family. Our pets are usually such a cheerful presence in our lives, so as an owner you can instinctively tell when they're feeling down. The trouble is, it's often hard to tell what's causing the problem – or what you should do about it.
VCCP, highlights the fact that whatever's giving your pet the blues, MORE TH>N is here to help. As the brand's fictional founder Mordenn explains, all MORE TH>N pet insurance comes with Vetfone, a 24 hour pet advice line. So however big or small the problem might seem, Vetfone's experienced veterinary nurses are on hand to help you get to the bottom of it and get it sorted.
Starring alongside Mordenn were Porter the dog and Leicester the cat who were consummate professionals on our London shoot, mastering the guitar and harmonica with remarkable ease.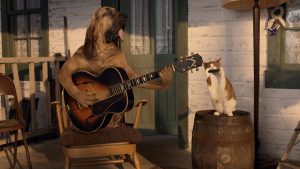 Di Bowden, Head of Brand & Marketing at MORE TH>N said: "At MORE TH>N we are all about doing more than expected – whether that's giving all our pet insurance customers a 24 hour veterinary advice line as standard, or having that message delivered by a blues guitar playing blood hound. We are thrilled about the way this campaign embodies our brand promise: we do more."
Adam Thompson, Creative Director at VCCP added: "This was a great opportunity for MORE TH>N to show that it does more to help its customers look after their furry friends, by providing pet insurance that comes with a 24 hour vet line. We don't always understand our pets, and they don't always understand us, but they sometimes find an unexpected way of expressing how they feel and surprising us with their talents. That's why we love them."
The campaign, which launches on early January will run across TV, VOD, Radio, DAX, social.
Source: VCCP