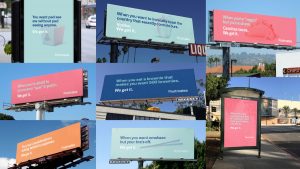 Postmates, one of the only on-demand delivery apps that can deliver anything from anywhere, announced a "We Get It" 360 brand marketing campaign that captures how on-demand 'anything' is quickly becoming a way of life — particularly in the app's largest market of Los Angeles.
From Pho, aspirin and coffee runs for the office, to street tacos and a pint of Halo Top for dinner, to a bottle of vodka to make it through the evening onslaught of cable news — Postmates helps millions of people each month get anything they need, anytime they need it — delivered to their door in minutes. The campaign is a cheeky nod to Postmates' growing place in the lives of time-pressed, information-overloaded and traffic-constrained Angelenos, in particular.
The "We Get It" campaign was inspired in part by some of Postmates' 2017 order trends — from the 139% rise in açaí bowl orders and all things vegan in Santa Monica, to the spike in alcohol orders at some key points in the political discourse in 2017.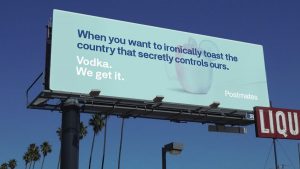 "We often hear from our users that the ability to postmate anything, from anywhere, feels magical, like they've acquired a new superpower," said Lizz Niemeyer, director of brand marketing at Postmates. "The campaign was inspired by the inventiveness and sense of humour of our loyal customers, millions of whom use Postmates as a way of life rather than an app — particularly in LA."
Developed with Postmates' creative agency-of-record 180LA and media agency partner MBMG,  the 'We Get It' campaign brings to life the "superpower" of Postmates' on-demand offering through OOH billboards, bus shelters, wild postings and interactive extensions across Los Angeles and nationally via digital and podcast extensions. Headlines from the "We Get It" campaign include:
"When you're "vegan" but you're drunk. Carnitas Tacos. We get it."
"When you want to ironically toast the country that secretly controls ours. Vodka. We get it."
"When you're afraid to pronounce açaí in public. We get it."
"When the breakup was bad, but only 360 calories bad. Halo Top. We get it."
"When you want omakase, but your bra's off. We get it."
"When you eat a brownie that makes you want 500 brownies. We get It."
"When you want pad see ew, without pad seeing anyone. We get it."

"'We get it' sets out to demonstrate to the people of Los Angeles not only what Postmates does — literally get you stuff — but also how Postmates gets the city, and the countless reasons why the people in it need the things they need," said Jason Rappaport, creative director at 180LA.
"We've developed more than 50 bespoke executions throughout the city that speak specifically to LA's different neighbourhoods, iconic restaurants, food trends and life situations and that will resonate with the people here. Working in close collaboration with MBMG, we were able to strategically select custom locations tied to our creative. We're taking a fun, tongue-in-cheek run at this city with this campaign, and if nothing else, it gives the people of LA something to look at while driving, other than their phones."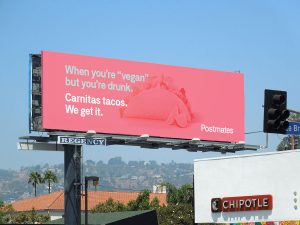 Postmates is the largest on-demand delivery network in the Los Angeles market — with about a million local deliveries made each month. It continued its meteoric growth in Los Angeles in 2017, with continued geographic expansion and a 73 percent year-over-year increase in sales. According to the market research firm, NPD Group, there are now about 1.7 billion food deliveries made annually and others have estimated that the sector is growing by 40 percent year-over-year.
To toast the new campaign, Postmates has teamed up with the ACLU to pledge $2 per Drinks order through February to support their important work. It is also offering a 30-day free trial for Unlimited, its subscription service — which offers free deliveries from an almost unlimited range of restaurant, drinks, essentials and grocery partners.
In 2017, Postmates introduced its first alcohol and grocery collections — Drinks and Fresh — in major markets, including Los Angeles. Sourcing from local partners, Drinks customers can order from a wide selection of beer, wine and spirits for delivery in 25 minutes or less. The Fresh collection curates high quality, locally-sourced groceries — like kale, avocados and a niman ranch filet for a last-minute dinner, delivered in 30 minutes on average.
Source:Â 180LAÂ