Independent creative agency Recipe has worked with St John Ambulance to create online video content for the first aid charity's latest awareness campaign.
Based around the acronym 'C.A.R.E.' [Closest defibrillator. Arrest? Resuscitate. Early defibrillation.], Recipe has created four simple animated videos that inform how you can care for a loved one's heart in the event of cardiac arrest. The objective is to reach those at risk in the home and to raise awareness of how to be prepared.
The videos take a hard-hitting subject yet present the information in an engaging, informative and bite-sized way.
They show how, in the case of a cardiac arrest, every second counts. If people can be encouraged to prepare beforehand, for example by knowing the location of the closest defibrillator, then vital time and lives can be saved.
Sarah Shaw, St John Ambulance PR manager comments: "Thousands of families feel the impact of cardiac arrest each year. If more people knew what to do, they would be ready to act and more lives could be saved. The 'C.A.R.E. for a Heart' campaign aims to get the nation prepared to act if faced with sudden cardiac arrest through four animated videos featuring different characters that make complex first aid easy to understand."
Matt Waller Recipe Creative Director said: "The C.A.R.E for a Heart campaign is designed to give us the information we all need to help us care for a loved one's heart in a simple and memorable way."
The films are available to be viewed and shared on C.A.R.E for a Heart microsite.
Credits: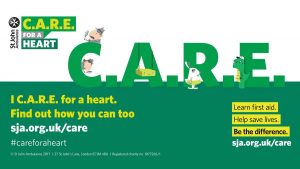 Creative Director: Matt Waller
Business Director: Sarah Trebilcock
Senior Account Manager: Sammy Kennard
Account Executive: Anna Green
Director/Production Co.: Recipe Kitchen
Producer: Anjelica Gould (Agency and Kitchen)
Illustrator: Harvey Finch
Editor: Kitchen
Post Production: Recipe Kitchen
Sound Design: Offset Audio
Media Planning and Buying: JAA
Source: Recipe