[KGVID width="600″ height="338″]https://marcommnews.com/wp-content/uploads/2016/03/Saatchi-LA-Toyota-OOH.mp4[/KGVID]
A first-ever for the ad capital of the world, Saatchi LA and Toyota are about to thrill audiences with their out-of-home live-action billboard in New York's iconic Times Square. The live-action billboard highlights RAV4 Hybrid's "How Far Will You Take It" theme, which aims to ignite the audiences' passion for adventure. The out-of-home campaign launches on the heels of Toyota's broadcast spots starring X-Men actor, James Marsden.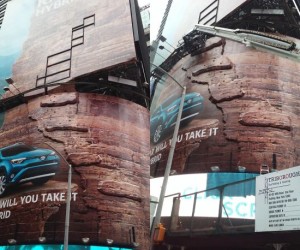 Beginning from March 22nd through the 24th, one daredevil amateur and three professional climbers will scale a 10-story, 100 ft billboard/climbing wall on 47th and 7th. The Toyota amateur climber, Christina Fate, will be put to the test after completing a rigorous 4-week training program, all captured on film, which will be available March 21st.
The idea is an extension of the current RAV4 Hybrid "How Far Will You Take It" campaign, which is about encouraging people to go out and try something new. The basis of the campaign came from the insight that the people interested in this vehicle are the type of people that seek out new experiences. Toyota and Saatchi LA wanted to create an experience, not just a billboard, which would inspire people to go out and try something new for themselves. By virtue of being a hybrid and an SUV, that the RAV4 seems to be the perfect vehicle for the message.